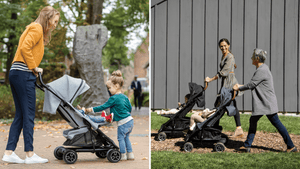 2021 Nuna PEPP Next vs. 2020 Nuna PEPP Next Stroller Comparison
With a lighter-weight design and luxurious detailing, the 2021 Nuna PEPP Next is getting some serious upgrades without sacrificing features that have made it Nuna's go-to compact stroller for many years.
Compared to the previous PEPP Next, the 2021 Nuna PEPP Next is 4.3 pounds lighter—now under 17 pounds—thanks to a redesigned frame. 
Plus, the addition of Nuna's MagneTech Secure Snap buckle to the harness means getting your child in and out of the stroller will be even easier than before. 
In other ways, the PEPP Next is remaining unchanged, keeping its all-weather seat, suspension, roomy basket, and included car seat adapters and snack tray for each stage of your child's growth.
Read more to explore all of the Nuna PEPP Next model year updates in depth from 2020 into 2021. 
2021 Nuna PEPP Next vs. 2020 Nuna PEPP Next Price
With updated, premium features, the 2021 Nuna PEPP Next costs $50 more than the previous PEPP Next.
2020 PEPP Next: $299.95
2021 PEPP Next: $349.95
2021 Nuna PEPP Next vs. 2020 Nuna PEPP Next Weight and Dimensions
Nuna is not changing the dimensions of the PEPP Next, which has always been compact, but the weight of the 2021 model has been reduced by over 4 pounds.
At 16.8 pounds, the 2021 PEPP Next is now comparable in weight to many other travel strollers.
Product weight: 21.5 pounds
Dimensions: 35.6"L x 22"W x 42.5"H
Folded dimensions: 36.8"L x 22"W x 18.5"H
Recommended use: Birth to 50 pounds
Product weight: 16.8 pounds
Dimensions: 35.6"L x 22"W x 42.5"H
Folded dimensions: 36.8"L x 22"W x 18.5"H
Recommended use: Birth to 50 pounds
2021 Nuna PEPP Next vs. 2020 Nuna PEPP Next Harness Buckle 
With Nuna's new MagneTech Secure Snap harness buckle, the 2021 Nuna PEPP Next will be easier for parents to use when securing their child in the stroller seat.
The shoulder and waist straps on either side are connected now with a magnetic piece that self guides to click into place.
Previously, the PEPP Next buckle was designed with separate shoulder and waist strap that interlocked before clicking into the buckle.
The 2021 model has a more user-friendly and ergonomic release button at the top of the buckle.
2021 Nuna PEPP Next vs. 2020 Nuna PEPP Next Fabrics and Materials
The 2021 Nuna PEPP Next now features a leatherette handlebar that's brown instead of black, which complements the new Caviar Black and Lake Blue fabrics for a sophisticated but contemporary color palette.
The stroller's fabrics have been updated to lighter, softer woven textiles, compared with the more textured weave seen in 2020 and older models.
Both model years feature a UPF 50+ canopy and flip-out eyeshade for full sun protection, but the 2021 model no longer has the fabric Dream Drape extension.
2020 and earlier models featured a stretchy knit canopy extension that could be tucked into a zippered pocket near the canopy visor.
Car Seats Compatible with 2021 and 2020 Nuna PEPP Next
Both the 2020 and 2021 Nuna PEPP Next strollers include car seat adapters that create a travel system with all Nuna PIPA series infant car seats.
The stroller folds with the adapters attached when you fold the adapters inwards toward the stroller seat.
There are two ways you can use the PEPP Next with the car seat adapters. The easiest way: Just detach the stroller canopy, attach the adapters, and click your PIPA onto the adapters overtop the seat fabrics.
If you'd prefer to use your car seat with only the stroller frame, you can also remove the seat fabric while using the frame with car seat adapters, but reattaching the fabrics when you're ready to use the stroller seat can be time consuming.
2021 Nuna PEPP Next vs. 2020 Nuna PEPP Next Colors
The 2020 Nuna PEPP Next was available in Frost Grey and Caviar Black, both with black leatherette handlebar.
With the 2021 Nuna PEPP Next, Nuna is keeping Caviar Black but introducing a new stroller colorway, Lake.
Lake is a denim-like, deep blue that has previously only been available in Nuna's toddler car seats and booster, the RAVA, EXEC, and AACE. Both colors feature a saddle brown leatherette handlebar.
All Nuna PIPA series car seats are compatible and come in Caviar, but none of Nuna's infant car seats come in blue. The Lake stroller pairs well with car seats in Granite, Nuna's warm gray tone.
Conclusion
Whether you're looking for a lightweight stroller for everyday uses, a travel stroller or simply a stroller frame that accommodates a Nuna car seat, the 2020 and 2021 Nuna PEPP Next models are great options for a small yet full-featured stroller. A lighter design, simplified harness buckle, and contemporary fashions make the PEPP Next a natural choice for parents looking for a cost-effective and luxurious Nuna stroller.
Questions?
Strolleria is a family-owned and operated retailer dedicated to making the baby gear buying experience less overwhelming for parents. If you have more questions about the 2020 vs. 2021 Nuna PEPP Next debate, feel free to contact us by starting a live chat, calling 480-442-9433 or e-mailing customercare@strolleria.com. 
---