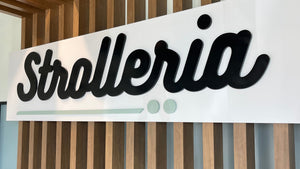 Big-box selection, boutique service
About Strolleria
Big-box stores sell everything to everyone, which is why employees don't always have the time or expertise to help each customer individually. And while boutique stores specialize in personal service, they may carry only a few of the products you're looking for.
Meet Strolleria: the baby store that offers both big-box selection and the boutique experience to Phoenix and Scottsdale parents. Our Scottsdale showroom is the only store in Arizona dedicated solely to baby gear like strollers, car seats and other essentials.
Strolleria's showroom floor features dozens of models from Bugaboo, Clek, Cybex, Nuna, Stokke, UPPAbaby and other brands known for quality, innovation and style. With our warehouse located adjacent to the showroom, we have hundreds of products in stock.
At Strolleria, customers will always be assisted by a staff member. We'll help you find the baby gear that's best for your family's unique needs—in less time, with less stress and confusion. 
Let us help you with one of the countless challenges of parenting: finding the gear you need to tackle the rest!
Store Hours and Location
Strolleria is located at 8905 E. Del Camino Drive, Suite 1, Scottsdale, AZ 85258.
The showroom is open from 9 a.m. to 6 p.m. Monday-Saturday.
Are you local and looking for a car seat check / installation help? Our CPST Certified staff is here to assist!
To schedule a car seat check appointment, please email our team at customercare@strolleria.com.
For more information, please contact us or call 480-442-9433.
📍 Come see our new showroom! While our building is not listed on Google Maps yet, this will get you there!
Parent Reviews
"After frustrating trips to big-name stores with little to no help and an insane amount of low-grade options, we felt we walked into 'Stroller Heaven' at Strolleria." —Tiffany S., Facebook
"(Strolleria) eliminates the hassle of going to a larger chain store when in search of a product that requires a great deal of research, explanation and demonstration. Strolleria is also far less overwhelming than larger baby stores." —Courtney M., Google
"If you're not buying your stroller from here, you're crazy." — Jason Q., Yelp