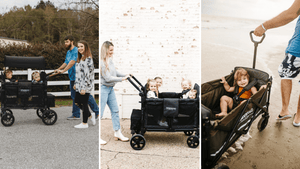 WonderFold W Series vs. X Series Stroller Wagon Comparison
Stroller wagons provide a hassle-free solution for parents that need a comfortable place for each child to sit plus storage for essentials from grocery trips to beach days and everything in between. Enter WonderFold, the stroller wagon brand that offers parents a wide range of options that hold up to four children at once.
With so many good options to choose from (several models each for 2-seat and 4 -seat wagons) it can be difficult to decide which one is best for your family! All of WonderFold's stroller wagons include the essentials and beyond like a removable sun canopy, adjustable handlebar, 5-point safety harness, storage space, and hearty all-terrain wheels you'll need when crossing sand or grass.
In this article, we will compare the WonderFold W series and X series wagons in detail.
W Series Vs. X Series Comparison Video
See the W LUXE, W Elite, and X2M wagons up close and explore differences, how to fold, and more in this video comparing the WonderFold W Series and X Series Stroller Wagons:
W SERIES VS. X SERIES PRICING
Depending on which model you choose - and which size - there are a variety of price points within the WonderFold line.
To carry up to two children, WonderFold double stroller wagons range from $369 up to $659, and to carry up to four children the quad stroller wagons range in price from $469 up to $899.
Double Stroller Wagon Price
Quad Stroller Wagon Price
W SERIES VS. X SERIES SPECIFICATIONS
Due to their high carrying capacity (up to 300 pounds in the W4 models!), the WonderFold wagons are a little heavier than your average stroller. However, they're designed with premium suspension, wheel bearings, and all-terrain tires to ensure that despite the capabilities of a wagon the WonderFolds push and steer with the ease of an all-terrain stroller.
Double wagons range in weight from 32 pounds for the X2 up to to 55 pounds for the W2 Luxe. To compare that with a couple other double strollers with similar all-terrain functionality, the Veer Cruiser Wagon weighs 32.5 pounds, and the Bumbleride Indie Twin side by side double jogging stroller weighs 36 pounds.
It's no surprise that the quad wagons weigh even more, but despite carrying twice as many children, they're only slightly heavier: quad wagons range from 41 pounds for the X4 up to 63 pounds for the W4 Luxe.
Double Stroller Wagon Weight
W2 LUXE: 55 pounds

W2 Elite: 47 pounds

X2 / X2M: 34 pounds
Quad Stroller Wagon Weight
W4 LUXE: 63 pounds

W4 Elite: 58 pounds

X4 / X4M: 41 pounds
Double Stroller Weight Capacity
W2 LUXE: 200 pounds (45 pounds per seat)

W2 Elite: 200 pounds (45 pounds per seat)

X2 / X2M: 150 pounds
Quad Stroller Weight Capacity
W4 LUXE: 300 pounds (99 pounds per 2-seat bench)

W4 Elite: 300 pounds (99 pounds per 2-seat bench)

X4 / X4M: 180 pounds
W SERIES VS. X SERIES Features
WonderFold's W Series wagons have more features and upgraded seating compared to the X Series, though the X Series includes some features not included with one or both W Series models.
The LUXE and Elite wagons in the W Series have these features not seen in the X Series:
Raised, removable and reclining seats

Additional storage space under seats

Footwells for added comfort

A zippered door that allows kids to climb in and gives parents easy access to storage

Numerous storage pockets on the sides and back of the wagon

Mesh siding with zippered panels keep kids comfortable any season
W Series wagons also have a higher weight capacity of 300 pounds for a quad or 200 pounds for a double.
The X Series wagons have fewer features, with built-in backrests that allow your child to sit on the bottom of the wagon. And they have a lower weight capacity of 180 pounds for a quad and 150 pounds for a double. 
The X Series wagons have these features not seen in the W Series:
Spring bounce pull handle included with purchase

Magnetic harness buckles (included on W LUXE but not W Elite)
Functioning as a Push + Pull wagon right out of the box, the X4M and X2M both have handles that make them easier to pull behind you at the beach, while W Series wagons have only a fabric pull strap that may not be as comfortable to pull with the W series' higher weight capacity and larger carriage. You can purchase a pull handle separately for the W series.
Both types of wagons share features like a removable storage basket on the back of the wagon, suspension for a smooth ride, a foot brake and seats with 5-point harnesses.
The W Series includes the Luxe and Elite models.
W LUXE VS. W ELITE Features
The W2 LUXE and W4 LUXE are WonderFold's top-of-the-line models, with larger and more durable wheels, magnetic harness buckles, and a vegan leather handlebar for a comfortable and on-trend aesthetic.
The W2 Elite and W4 Elite have the same features as the LUXE except the wheels are slightly smaller, the harness buckle is not magnetic, and the handlebar is covered in neoprene for a comfortable grip.
Both the Luxe and Elite models have these features:
A removable rear storage basket, with extra storage pockets on the Luxe

Reclining seats

An adjustable handlebar

And a canopy that can be adjusted based on the position of the sun
New for 2022 is a special edition Volkswagen version of the W4 Luxe designed to look like a vintage VW Bus, complete with wheel caps and working headlights, for $1,499.
W SERIES VS. X SERIES FOLD
Despite their large frames, both the W Series and X Series wagons fold compactly with relative ease.
FOLDING THE W SERIES WAGONS
W Series wagons can be folded with the seats and canopy attached.
First, fold the handlebar down, and unlock the canopy rods at each of the four corners. Then, lower the canopy rods down into the frame.
Hidden under a storage pocket flap at the center sides of the wagon is a latch; push down on the latch so it slips over the locking tab and lift up on the frame with both hands to fold. To secure, attach the lock at the bottom of the wagon.
FOLDING THE X SERIES WAGONS
X Series wagons fold in one motion, with one hand after you remove the canopy. Pull up on a strap in the center of the wagon to collapse it, then buckle the lock to secure.
W SERIES VS. X SERIES COLORS
Charcoal Gray with Black Frame

Volcanic Black

Shadow Green Camo

Charcoal Gray with White Frame

Elite Black Camo
Volcanic Black

Charcoal Gray

Elite Black Camo
Charcoal Gray

Sunset Orange

Noble Navy

Volcanic Black

 
Charcoal Gray

Volcanic Black

 
X2M and X4M COLORS
Woodland Green

Stealth Black

Blueberry Blue
W SERIES VS X SERIES PROS AND CONS
So which is better, the WonderFold W Series or X Series? While only you can decide which one is just right for your lifestyle and family, here are some benefits and drawbacks that we see between these models.
Once you've decided on the W LUXE, W Elite, or XM models, just choose between the double or quad model depending on how many little ones you have in tow and how much storage space you'll need.
WonderFold W Series Double and Quad Wagons
Benefits
Higher seat profile brings children closer to parents
Footwell adds comfort plus storage space under seats
Zip open door for access
Additional storage space and pockets
Folds with canopy attached
Adjustable canopy positioning
Drawbacks
Pull handle sold separately, only a lightweight strap included
Heavier and larger frame takes more effort to fold or lift
WonderFold X Series Double and Quad Wagons
Benefits
Lighter weight
More compact
Quick and easy to fold
Premium detailing at a lower price point
Included, spring bounce pull handle
Drawbacks
No footwell for children to dangle or rest their legs
Can't fold with canopy attached
Less storage space
Smaller tires
Lower weight capacity
QUESTIONS?
Strolleria is an authorized retailer of WonderFold products dedicated to making the baby gear buying experience less overwhelming for parents.
If you have more questions about the W Series vs. X Series debate, feel free to contact us at 480-442-9433 or customercare@strolleria.com
---