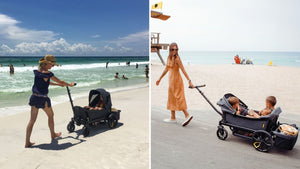 Veer Cruiser 2-Seat vs. Cruiser XL 4-Seat All-terrain Wagon Comparison
"We are not strollers" - Veer's tagline captures the essence of their gear, starting with the Cruiser All-terrain Wagon.
Winner of the 2018 Parents Choice Awards, the Veer Cruiser is a crossover stroller wagon with all-terrain wagon capabilities in a frame that's as compact and maneuverable as a traditional stroller. While you can take your Veer Cruiser for a leisurely stroll, it's designed to be as tough and as adventure-ready as you are.
Plus, parents can customize the Cruiser to their hearts' content with a rainbow of color options, camouflage prints, and lifestyle-specific accessories.
While the Veer Cruiser All-terrain Wagon supports up to two children at once, the new Cruiser XL is twice the fun with space for four! In this article, we will compare the Veer Cruiser 2-seat and Cruiser XL 4-seat stroller wagons in more detail.
VEER CRUISER VS. CRUISER XL PRICE
Despite having double the carrying capacity, the Cruiser XL is not double the price. Click the links below to see the current price for the Veer wagons.
VEER CRUISER VS. CRUISER XL SPECIFICATIONS
With only a 4" difference in width between the 2-seat Veer Cruiser All-terrain wagon and the Cruiser XL 4-seat wagon, Veer not only doubled the seating capacity but also managed to design a 4-seat wagon with 5% wider seating surface yet narrower overall footprint than other popular quad wagons.
There is only a 4 pound weight difference between the Cruiser and Cruiser XL, yet the Cruiser's 110 pound total passenger capacity is doubled in the Cruiser XL - and both can carry up to 300 pounds with cargo only! Both weighing under 40 pounds, even the 36.7 pound Cruiser XL 4-seater is approximately 38% lighter than the competition.
Let's see how the weight, weight capacity, and storage capacity of the Veer Cruiser 2-seat and Cruiser XL 4-seat models compare.
Stroller Wagon Weight
Stroller Wagon Weight Capacity
Stroller Wagon Cargo Capacity
VEER CRUISER VS. CRUISER XL FEATURES
Except for the difference in passenger capacity, the Veer Cruiser and Cruiser XL both share the same helpful features.
Like you would expect from your everyday stroller, the Cruiser and Cruiser XL have adjustable-height handlebars, offer newborn configurations with a car seat or bassinet-like nap system, and have lots of accessories (with some included right out of the box) that fit your family's needs.
With breathable, build-in 3-point harness seating with a centered footwell for 2 or 4, the Cruiser and Cruiser XL keep your children comfortable all day long. For extra cushioning, purchase the comfort seat accessory with 5-point harness to add shoulder straps and soft padding like a stroller seat, and a retractable canopy and optional visor sold separately add more protection from the elements. Plus, interior mesh pockets, a molded cubby, and included snack tray and cup holders mean playtime and snack time are always a given.
The crossover wagon capabilities are what make the Veer Cruiser and Cruiser XL stand-outs in their category. The lockable handle over lockable swivel wheels can be adjusted to push like a stroller, pull like a wagon, or pull beside you as the terrain and environment requires. Oversized, knobby back tires have low-friction bearings and all-wheel suspension mean you're prepared for even the toughest sandy beaches and root-covered trails, while fenders at the back shield you and your precious cargo from mud splatters along the way.
When you're back from adventuring, it's ultra-easy to clean the Cruiser and Cruiser XL - just wipe clean with a damp cloth or hose off the entire wagon for tough messes then dry thoroughly.
VEER CRUISER VS. CRUISER XL FOLD
Both the Cruiser and Cruiser XL can be folded compactly with just one hand, and can stand upright when folded for easier storage.
FOLDING the Veer Cruiser or Cruiser XL
The Cruiser and Cruiser XL fold in the same four steps:
First, park and lock the wagon with the foot brake.  Next, you will fold all four walls inwards in a couple easy stops: fold the front and back walls by pressing up on the button at either end and fold inwards. The long side walls will then fold inwards overtop.
Finally, fold the handlebar by lifting up on the two levers that also adjust the handlebar angle, and rest the handlebar overtop the folded sidewalls.
Stand your Veer Cruiser or Cruiser XL upright towards the larger rear tires, and repeat the folding steps in reverse to assemble your wagon. For a more compact fold, the wheels have a quick release mechanism that's handy for travel, tiny trunks, and small spaces.
VEER CRUISER VS. CRUISER XL COLORS
With purchase of custom sidewalls and canopies, the Veer Cruiser and Cruiser XL can make a statement - or blend into your environment - with a rainbow of colors and camouflage prints. If keeping it simple is your thing, neutral heathered grey sidewalls are included with purchase of either wagon.
It is quick to install a new canopy or a set of sidewalls. Plus, if you already have a Cruiser 2-seat model and upgrade to the 4-seat Cruiser XL, the sidewalls are interchangeable between models.
Cruiser and Cruiser XL Colors
Gray
Joshua Green
Sienna Orange
Kai Blue
Pele Red
Pink Agate
Savanna White
Camo
Ice Camo
Blue Camo
VEER CRUISER VS CRUISER XL PROS AND CONS
Time to decide! Which is best - the Veer Cruiser 2-seat or Cruiser XL 4-seat all-terrain wagon? Here's a summary of some of the benefits and drawbacks we see with each model, though only you can determine which one best serves your family's needs.
For new parents and families with a toddler and one on the way, the Cruiser two seat wagon will support everything you need without taking up any more space than necessary. A larger, four seat wagon may be overwhelming when you're just venturing into the crossover, all-terrain stroller wagon lifestyle! But, if your family's growing, you have more than two children in tow, or your children prefer a little more space, the Cruiser XL is among the lightest weight and compact quad stroller wagons available.
Benefits
4.2 pounds lighter weight and under 33 pounds
4" narrower at just 20" wide to easily maneuver trails and shop aisles
Less expensive by $100
Some accessories are compatible with the Cruiser XL if you ever need to upgrade to the larger model
Drawbacks
Can't support more than 2 children at once
Not compatible with the Cruiser XL's car seat adapters, canopies, storage basket, and other width-specific accessories
Benefits
Supports up to 4 children at once, up to 55 pounds each
5% more seating surface compared to comparable quad wagons
Drawbacks
Frame is 4" wider than the 2-seat Cruiser
4.2 pound weight difference make the XL heavier to lift in and out of a vehicle
Not compatible with the original Cruiser's car seat adapters, canopies, storage basket, and other width-specific accessories
QUESTIONS?
Strolleria is an authorized retailer of Veer products dedicated to making the baby gear buying experience less overwhelming for parents.
If you have more questions about the Cruiser vs. Cruiser XL debate, feel free to contact us at customercare@strolleria.com or chat with us now!
---