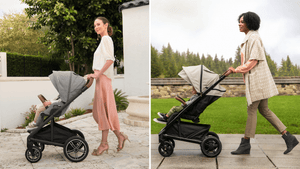 Nuna MIXX Next vs. Nuna TAVO Next Stroller Comparison
For many parents, the Nuna MIXX Next and Nuna TAVO Next offer everything they're looking for in a stroller.
They're sturdy, but not too heavy. They're easy to use, especially when folding and unfolding the stroller. They're compatible with some of the safest car seats on the market, the Nuna PIPA series. And they offer a luxurious look and feel—without the highest price tag.
So which is better: the Nuna MIXX Next or the Nuna TAVO Next?
The MIXX Next is the higher-end stroller, featuring a reversible seat that can be removed and replaced with a bassinet or car seat. But while the seat of the TAVO Next is not removable, it still offers features the MIXX doesn't have, like an adapter-free car seat connection and a larger ventilation panel.
In this post, we'll explain the differences, benefits and drawbacks of the Nuna MIXX Next and Nuna TAVO Next, both of which are the latest models released in late 2020/early 2021.
First, let's take a look at each stroller.
Nuna MIXX Next
The versatile MIXX Next is our most popular Nuna stroller, a stylish yet durable stroller that offers a smooth ride no matter where you're strolling.
Compared with the TAVO Next, the MIXX Next offers more rugged wheels that make it a good match for families looking to venture onto dirt, gravel and grass.
For your newborn, remove the stroller seat and attach a car seat or overnight-approved bassinet in its place—or recline the seat to its true-flat position. A reversible seat allows your child to face you when she's napping or face forward once she's old enough to explore the world.
Updated in early 2021, the MIXX Next includes enhanced suspension for a smoother ride; a more compact, standing fold; and a magnetic harness buckle that makes it a snap to buckle your child.
Learn more about the differences between models in this Nuna MIXX vs. MIXX Next comparison.
Nuna TAVO Next
While being a more budget-friendly option, the Nuna TAVO Next doesn't skimp on features.
Unlike the MIXX Next, no adapters are required to turn the TAVO Next into a travel system: Simply place the car seat between the back of the seat and the bumper bar, and the car seat safely locks into place.
Updated to the TAVO Next model in late 2020, the stroller now includes improved suspension; a smaller, standing fold; added leatherette details and a magnetized harness that makes it quick and easy to buckle in your child. 
Nuna MIXX Next vs. Nuna TAVO Next Price
With its extra features like a removable seat, upgraded wheels and fabrics, and bassinet compatibility, the Nuna MIXX Next costs $250 more than the Nuna TAVO Next.
Nuna MIXX vs. Nuna TAVO Weight and Dimensions
The Nuna MIXX Next is slightly larger than the Nuna TAVO Next: It's about 4 inches longer, and because of its larger, more robust wheels, it's 5 pounds heavier than the TAVO Next. 
Weight
For both models, Nuna weighs the products without the inclusion of some components as noted.
MIXX Next: 28.3 pounds (without seat insert or bumper bar)
TAVO Next: 23.2 pounds (without seat insert, canopy or bumper bar)
Weight Limit
MIXX Next: Birth to 50 pounds
TAVO Next: Birth to 50 pounds
Dimensions
MIXX Next: 32.7"L x 23.6"W x 45.3"H
TAVO Next: 28.4"L x 22.4"W x 43.7"H
Folded Dimensions
MIXX Next: 27.5"L x 23.6"W x 19"H
TAVO Next: 28.4"L x 22.4"W x 20.9"H
Nuna MIXX Next vs. Nuna TAVO Next Configurations
The Nuna MIXX Next offers more configurations than the Nuna TAVO Next because its seat can face either direction, while the TAVO seat only faces forward. Additionally, only the MIXX Next can be used with a bassinet.
Why is a bassinet necessary when an infant can ride in a car seat? A bassinet allows your baby to lie flat, which is healthier for her developing neck and spine than the slightly upright position of the car seat. Car seats can restrict baby's airways and aren't recommended for prolonged use or sleeping.
The MIXX bassinet is approved safe to use overnight when placed on the MIXX stand or any flat surface. Many families use the bassinet as baby's first crib at your bedside, or at least for travel and naps at Grandma's house. Plus, the bassinet also offers far more ventilation than a car seat, which, with its protective foam, tends to make babies sweaty.
Both models are also newborn-friendly when you recline the seat to a fully-flat position, and the end of the seat can also be enclosed with fabric snaps for a cozier setting.
All Nuna car seats attach to both the MIXX Next and TAVO Next, but in different ways—see the car seat compatibility section for details.
The photo below shows all the configurations of the MIXX Next.
See the available configurations for the TAVO Next below.
Nuna MIXX Next vs. Nuna TAVO Next Materials and Harness
High-quality materials are used on both the Nuna MIXX Next and TAVO Next, both of which feature a leatherette handlebar and bumper bar.
Both strollers include a seat insert that can be removed to reveal a mesh seat back, which helps cool off your child in warm temperatures.
See the all-weather seat on the MIXX below, as well as the ventilation panel on the back of the canopy.
The back of the TAVO Next canopy can be unzipped to open a large ventilated window. See the all-weather seat and the "Sky Smart" window in the photos below.
Both strollers feature Nuna's new MagneTech Secure Snap technology that uses magnets to guide the harness buckle into place. The magnetic buckle makes buckling your child faster and easier, adding a bit of simplicity to your daily life.
Nuna MIXX Next vs. Nuna TAVO Next Fold
The Nuna MIXX Next and Nuna TAVO Next fold similarly: Pull up on the triggers integrated into the frame, and the stroller instantly folds in half. For the MIXX Next, the seat must also be folded with the press of a button on the back of the seat.
Both strollers can be rotated into a standing position when folded for convenient storage and pickup. You can also trolley either stroller like a suitcase, making the strollers easy to transport when not in use.
Car Seats Compatible with Nuna MIXX Next vs. Nuna TAVO Next
The Nuna MIXX Next and Nuna TAVO Next are compatible with any car seat in the Nuna PIPA series: the PIPA, PIPA RX, PIPA Lite, PIPA Lite R, and PIPA Lite LX. See our comparison for the differences between the five models.
The difference lies in how the car seats are used on each stroller. 
The stroller seat is removable on the MIXX Next, allowing you to attach a car seat in its place. The MIXX and MIXX Next come with Nuna's unique ring adapter, which makes snapping the car seat in and out of the stroller an easy, one-handed maneuver. See the ring adapter in the photos below.
No car seat adapters are required for the Nuna TAVO Next: The car seat simply snaps into the seat, secured by the bumper bar. But because the seat on the TAVO is not removable, the car seat sits on top of the stroller seat, which adds bulkiness and weight. The canopy of the stroller can either be removed for a cleaner look or used in combination with the car seat canopy to create a full-coverage cocoon for your baby.
Nuna MIXX Next vs. Nuna TAVO Next Accessories
More accessories are available for the Nuna MIXX Next than for the Nuna TAVO Next, making the MIXX Next a more versatile stroller. The MIXX can be paired with a bassinet approved for overnight sleeping, and unlike the TAVO Next, it offers every parent's favorite accessory: a cup holder for Mom and Dad.
Nuna offers the following accessories for the MIXX Next:
For the TAVO Next, the following accessories are sold separately:
Benefits and Drawbacks
So which stroller is better: the Nuna MIXX Next or the Nuna TAVO Next? Only you can decide which is best for your family, but here are the benefits and drawbacks we see.
Nuna MIXX Next
Benefits
Seat is removable, allowing car seat or bassinet to attach in its place
Reversible seat allows baby to face you or face forward
Bassinet offers roomy, ventilated place for baby to sleep while strolling or overnight (with or without bassinet stand)
Larger back wheels with superior tread handle rougher terrain better than TAVO Next
Accessories such as cup holder and bassinet allow you to customize your stroller
Drawbacks
Costs $250 more than TAVO Next
Requires adapters (included with purchase) to attach car seat
Weighs 5 pounds more than TAVO Next
Nuna TAVO Next
Benefits
Costs $250 less than MIXX Next
Nuna car seat connects to stroller instantly without adapters
Back of canopy can be zipped open, offering more ventilation than MIXX Next
Drawbacks
Seat is not removable, which adds bulk and weight to the travel system
Seat is not reversible to allow parents to watch over a younger child
Wheels are smaller and not as rugged as the MIXX Next, making the stroller less maneuverable on rougher terrain
Accessories such as a bassinet and cup holder are not available for the TAVO Next
Seat fabric is not tailored to back of seat, like MIXX Next, causing extra fabric to bunch up
Conclusion
Both the Nuna MIXX Next and Nuna TAVO are excellent choices for families looking for a stroller that's easy to use, durable and stylish.
The removable seat gives the MIXX Next more versatility, as the stroller seat can face either direction and be replaced with a car seat or bassinet. 
Cost-conscious parents may opt for the Nuna TAVO Next, which costs $250 less but still offers a number of desirable features, like easy car seat compatibility and an all-weather seat.
Questions?
Strolleria is a family-owned and operated retailer dedicated to making the baby gear buying experience less overwhelming for parents. 
If you have more questions about the Nuna MIXX Next vs. Nuna TAVO Next debate, feel free to contact us at 480-442-9433 or customercare@strolleria.com.
---