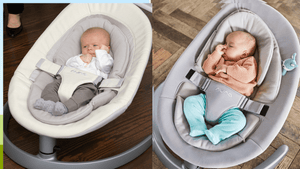 Nuna LEAF vs. Nuna LEAF Grow Baby Seat Comparison
Some baby seats bounce, while others rock or swing. But the Nuna LEAF makes a comforting movement familiar to all babies: a side-to-side sway that makes baby feel like she's in your arms.
Nuna makes two versions of its popular seat: the Nuna LEAF and the Nuna LEAF Grow, both of which provide about two minutes of motion after a gentle push.
While both offer the same soothing sway and stylish look, the LEAF Grow adds a removable harness and three-position recline that makes it more comfortable for your child to enjoy through toddlerhood (and beyond, thanks to the seat's 130-pound weight limit!)
But the LEAF meets the needs of most families during the infant stage and, without the toddler-centric features, it costs $100 less than the Grow.
So which is better: the Nuna LEAF or the Nuna LEAF Grow? We'll explain the differences in this comparison.
Nuna Leaf vs. Nuna Leaf Grow Price
With its added features and greater longevity, the LEAF Grow costs $100 more than the LEAF.
LEAF: $199.95
LEAF Grow: $299.95
Nuna Leaf vs. Nuna Leaf Grow Recline and Adjustability
While both the Nuna LEAF and Nuna LEAF Grow are sturdy enough to hold even a petite adult, the LEAF Grow is designed to change alongside the child (as the name suggests).
Both seats offer a three-point harness that keeps baby safe and secure. For either seat, you can remove the seat pad for a mesh backing that keeps your child cool and comfortable.
But the harness on the LEAF can't be removed, requiring a toddler to sit on top of it. The LEAF Grow has a removable harness that makes the seat more comfortable for a toddler.
It also offers three recline positions, which allows for your toddler to sit upright while reading or playing in the chair. Because the LEAF has one fixed position, it may be too reclined for a toddler who wants to sit more upright.
Plus, while the LEAF includes a single infant insert, the two-piece LEAF Grow insert consists of separate head and body cushions, providing more options for adjustment as baby grows.
Nuna Leaf vs. Nuna Leaf Grow Weight and Specifications
The Nuna LEAF and LEAF Grow can be used for the same period of time, although the LEAF Grow's added features make it more feasible for toddler use.
Stage 1 of the seat uses the harness, as well as an infant insert, and in the case of the LEAF Grow, an additional head support pad. It's designed to use until the baby is about 20 pounds or can push up on hands and knees or climb out.
In stage 2, the seat pad is removed, turning the LEAF into a chair where a toddler can enjoy a book, game or TV.
Because the base of the LEAF is thinner than that of the LEAF Grow, the seat weighs about 3 pounds less.
Product Use
LEAF: Birth to 130 pounds
LEAF Grow: Birth to 130 pounds
Product Weight
LEAF: 12.5 pounds
LEAF Grow: 15.4 pounds
Dimensions
LEAF: 28.7"L x 28"W x 17.7"H
LEAF Grow: 28.7"L x 28"W x 17.7"H
Nuna Leaf vs. Nuna Leaf Grow Colors and Fabrics
For both the Nuna LEAF and LEAF Grow, the seat pad can be removed for a mesh seat back that keeps your child comfortable in warm weather. Fabrics are removable and machine-washable for easy cleaning.
While the infant inserts for both models are made with organic cotton, the LEAF Grow seat pad goes a step beyond with OEKO-TEX certification—giving parents peace of mind that every component of the seat is free from harmful substances.
Both models include a detachable toy bar that looks different for each model: The LEAF features a woodland theme with a deer, mushroom and tree, while the trio of toys on the LEAF Grow are a bunny, cloud and duck.
The Nuna LEAF is available in two colors:
The Nuna LEAF Grow comes in these three colors:
Conclusion
The Nuna LEAF Grow adds more features to Nuna's long-popular swaying baby seat, like new colors, a three-position recline and two stages of cushions that make the seat more comfortable for both an infant and a toddler. 
While the Nuna LEAF can be used for the same duration, it's more limited in its features. But for parents looking primarily for an infant seat, the LEAF serves their needs and costs $100 less.
With either choice, you're investing in a seat that will be a comfortable resting place for your child for years to come.
Questions?
Strolleria is a family-owned and operated retailer dedicated to making the baby gear buying experience less overwhelming for parents. If you have more questions about the Nuna LEAF or LEAF Grow debate, feel free to contact us at 480-442-9433 or customercare@strolleria.com.  
Shop the Nuna LEAF collection at Strolleria below!
---