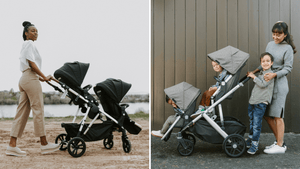 Mockingbird vs. UPPAbaby VISTA V2 Stroller Comparison
It seems like everyone loves the UPPAbaby VISTA. See the dozens of five-star reviews on Strolleria.com and accolades from sites like Baby Gear Lab and The Bump—or just look around your neighborhood park, and you're bound to catch a VISTA strolling by.
What's not to love about a stylish, well-made stroller that grows with your family? Potentially the $999.99 price tag.
That's why Mockingbird made a scene in 2020, when it debuted a single-to-double stroller that looks, folds and functions much like the VISTA—but costs $450.
The obvious price discrepancy aside, the VISTA differs from the Mockingbird by offering more suspension for better maneuverability, more configuration options and higher-quality materials.
Comparing the two strollers is tricky because you won't be able to do so in a store. While UPPAbaby is sold by retailers nationwide, Mockingbird sells only direct-to-consumer through its website. (Strolleria is a leading authorized retailer of UPPAbaby and affiliate partner of Mockingbird).
We did the test-driving for you, comparing the Mockingbird and VISTA V2 in their features, specifications, configurations and more.
Mockingbird vs. UPPAbaby VISTA V2 Video Comparison
See below for a video version of this comparison, covering single and double configurations, maneuverability, compatible car seats and more.
Mockingbird
Following the lead of companies like Warby Parker and Harry's (where Mockingbird's founder got his start), Mockingbird is one of the first companies to bring the direct-to-consumer approach to strollers.
The company offers two versions of the Mockingbird stroller: the original single version, which can't convert to a double, and the single-to-double version we'll review in this comparison.
Mockingbird's single-to-double stroller grows with your child from infancy through toddlerhood by supporting the use of an infant car seat or bassinet, then transitions into a sibling solution when you purchase a second seat kit.
UPPAbaby VISTA V2
As one of the first single-to-double strollers on the market, the UPPAbaby VISTA has been a family favorite for more than a decade, thanks to its quality, versatility and style.
Start with the VISTA as a single stroller by using the included bassinet or Toddler Seat or attaching an infant car seat, then add the lower RumbleSeat when it's time to stroll with two.
UPPAbaby introduced the VISTA V2 in 2020, adding upgrades like enhanced all-wheel suspension for a smoother ride, a redesigned sun canopy with extra ventilation, and a no-rethread harness for easy adjustments. 
Mockingbird vs. UPPAbaby VISTA V2 Single Stroller Price
One of the main selling points for the Mockingbird is its price: At $450, its cost is less than half the price of the UPPAbaby VISTA V2.
The price of the VISTA includes more accessories sold separately for the Mockingbird: an overnight-approved bassinet, stroller rain cover, and two bug covers for the stroller and bassinet. The Mockingbird comes with a sun shade that can be attached to the canopy for additional coverage.
The Mockingbird bassinet, which has been updated in late Summer 2022 to be approved for overnight sleeping when used with the Mockingbird Bassinet Stand, sold separately, costs $140 plus $90 for the home stand, while the stroller rain cover and bug cover add $25 and $15, respectively. (No additional accessories exist for the bassinet).
Here's a look at the overall costs for the Mockingbird and UPPAbaby VISTA.
Mockingbird Single Stroller Price
Single-to-double stroller with sun shade: $450
UPPAbaby VISTA V2 Single Stroller Price
Single-to-double stroller with bassinet and rain and bug covers: $999.99
Mockingbird vs. UPPAbaby VISTA V2 Double Stroller Price
Both strollers quickly transform from a one-child ride to a double stroller when you add another seat.
The second seat kit for the Mockingbird—which includes the seat and two sets of adapters (upper and lower)—costs $145, while the UPPAbaby equivalent, the RumbleSeat, sells for $219.95. 
The upper and lower adapters are required for all Mockingbird double configurations. You don't necessarily need adapters for the VISTA V2, unless you're strolling with a car seat or bassinet in double mode. For that reason, the VISTA upper and lower adapters are sold separately. See What Adapters Do I Need for the UPPAbaby VISTA?" for more details.
Mockingbird Double Stroller Price
Stroller with second seat kit (includes upper and lower adapters): $595
UPPAbaby VISTA V2 Double Stroller Price
Stroller with RumbleSeat: $1,219.98
Upper adapters: $24.99
Lower adapters: $24.99
Mockingbird vs. UPPAbaby VISTA V2 Weight and Specifications
The Mockingbird and UPPAbaby VISTA V2 are almost identical in weight and size, and on the spectrum of convertible strollers. When configured as a double, the Mockingbird is about 2 pounds heavier than the VISTA.
Single Stroller Weight
Mockingbird: 26.5 pounds
VISTA V2: 27 pounds
Double Stroller Weight
Mockingbird: 35 pounds
VISTA V2: 32.6 pounds
Stroller Dimensions
Mockingbird: 33"L x 26"W x 40"H
VISTA V2: 36"L x 25.7"W x 39.5"H
Folded Dimensions
Mockingbird: 16"L x 25.5"W x 33.5"H
VISTA V2: 17.3"L x 25.7"W x 33"H
Basket Capacity
Mockingbird: 25 pounds
VISTA V2: 30 pounds
Mockingbird vs. UPPAbaby VISTA V2 Weight and Height Limit
You can use either the Mockingbird and UPPAbaby VISTA V2 from your newborn's first stroll to your toddler's last. 
The models vary in their weight limits, as the VISTA V2 double consists of two, different-sized seats: the Toddler Seat, which has a 50-pound weight limit, and the RumbleSeat, which holds 35 pounds. The seats are the same size for the Mockingbird, with each accommodating a 45-pound child.
The seats of both strollers are the same size, although the VISTA V2 has one added perk that can help extend its use: The canopy is height-adjustable, sliding up on the frame to accommodate a taller toddler.
Age Recommendations
Both strollers can be used from birth by adding a bassinet, infant car seat, or the brand's infant accessory: the UPPAbaby Infant SnugSeat or the Mockingbird Infant Seat Insert. The manufacturers recommend using the stroller seat starting at these ages.
Mockingbird: 4-6 months and up
VISTA V2: 3 months and up
Weight Capacity
Mockingbird: 45 pounds per seat
VISTA V2: 50 pounds for upper Toddler seat; 35 pounds for lower RumbleSeat
Seat Back Height
Mockingbird: 20"
VISTA V2: 20"
Mockingbird vs. UPPAbaby VISTA V2 Wheels and Suspension
One key difference between the Mockingbird and the UPPAbaby VISTA V2 is the amount of suspension. Springs incorporated into the wheels and frame ensure bumps in the road are absorbed by the stroller, not your child—and make the stroller easier for you to maneuver (especially when pushing two kids).
The VISTA V2 offers a smoother ride and greater maneuverability because all four wheels offer dual-action suspension, in which the springs function independently. When you push on the VISTA to simulate shock absorption, you can feel the stroller give and bounce back, thanks to the suspension in the frame.
You won't feel the same amount of flex in the Mockingbird, which has suspension only in the front wheels and in the frame near the rear wheels.
While the wheels on both strollers are made of polyurethane, the VISTA wheels are both softer and larger—two additional factors that can make for a smoother ride, especially over varying terrain.
Suspension
Mockingbird: Suspension in front wheels and in rear frame
VISTA V2: Independent suspension in all wheels and spring-action suspension in the frame
Wheel Size
Mockingbird: 7" front wheels; 9.5" rear wheels
VISTA V2: 8" front wheels; 11.5" rear wheels
Mockingbird vs. UPPAbaby VISTA V2 Configurations
Both the Mockingbird and UPPAbaby VISTA V2 are versatile in their configurations for a single child, siblings or twins. You can attach a bassinet or infant car seat for an infant, and reverse both upper and lower seats so that they face the parent or face forward.
As of 2021, Mockingbird has updated its second seat kit to allow for an additional configuration not previously possible: You can now use the stroller with an infant car seat on the upper position and your toddler in the lower seat, facing forward.
When your family grows, the VISTA V2 offers these additional configurations not possible for the Mockingbird.
Bassinet + Seat
Technically, both the Mockingbird and UPPAbaby bassinets fit in the upper position when the stroller is in double mode. But because the lower seat will only fit when facing the parent, that configuration isn't ideal—as your toddler will be practically face-to-face with the bassinet.
UPPAbaby recommends using the bassinet on the lower position, with your toddler facing you in the upper position (a configuration that also spares you of having to buy the RumbleSeat). The bassinet doesn't fit on the lower position of the Mockingbird, making the face-to-face scenario the only option.
Two Bassinets
The VISTA can be paired with two bassinets for twins. Twin families using the Mockingbird can use two car seats or attach the infant inserts to the seats, which are configurations also available for the VISTA.
Mockingbird Configurations
UPPAbaby VISTA V2 Configurations
How to Fold Mockingbird vs. UPPAbaby VISTA V2
Both strollers are easy to fold into a compact, standing position that helps you lift it into the trunk.
To fold the VISTA V2, pull the triggers on each side of the frame, then lower the stroller until it locks.
The Mockingbird's folding mechanism is located in the middle of the handlebar and allows for a one-handed fold. Press two buttons using your thumb and fingers, then lower the frame. For the most compact fold, you'll need to recline the seat prior to starting the fold (otherwise, the space between the seat and frame will make lifting more difficult.)
While both strollers can fold with two seats attached, most parents will find the stroller to be too heavy and cumbersome to lift without removing the lower seat.
Car Seats Compatible with Mockingbird vs. UPPAbaby VISTA V2
Create your own travel system by pairing the Mockingbird or UPPAbaby VISTA V2 with an infant car seat from one of several leading brands.
Mockingbird doesn't manufacture car seats, so you'll need to purchase adapters ($45), no matter which car seat you have.
UPPAbaby makes its own car seat, the MESA V2, which connects to the stroller with no adapters required and is easy to remove using one hand. You can also purchase adapters to connect other brands.
The two strollers offer compatibility with popular brands like Nuna and Maxi-Cosi, while differing in other ways: Mockingbird is compatible with more lower-priced car seats (like Graco and Evenflo), while UPPAbaby pairs with more higher-end brands (like Clek and Peg-Perego).
Car Seats Compatible with Mockingbird
Adapters are required for all car seats.
Baby Jogger City Go series
Britax B-Safe 35 and B-Safe Ultra
Chicco infant car seats 
Cybex Cloud Q and Aton M
Evenflo Embrace and Nurture
Graco SnugRide infant car seats
Maxi-Cosi Mico 30, Mico Max 30 and Mico Max Plus
Nuna PIPA series
UPPAbaby MESA
Mockingbird vs. UPPAbaby VISTA V2 Bassinet
The UPPAbaby VISTA V2 comes with a bassinet, which serves a role both on and off the stroller. 
On the stroller, the bassinet is a flat, ventilated space for your newborn to lie flat—the recommended position for her developing neck and spine. (A car seat creates a curved angle that can restrict baby's airways and isn't safe for extended sleeping).
Off the stroller, the bassinet can serve as baby's first bed, positioned next to your bedside—or wherever you're headed, whether it's a visit to Grandma's house or a an extended trip out-of-town. The UPPAbaby bassinet is approved safe for overnight sleeping and can be paired with a bassinet stand, which later converts to a laundry hamper.
The redesigned 2022 Mockingbird bassinet, updated from the Mockingbird Carriage previously sold that was not approved for overnight sleeping, is now approved for unsupervised, overnight sleep when paired with the bassinet stand sold separately. The Mockingbird bassinet and stand are also foldable to make transport easy.
Mockingbird vs. UPPAbaby VISTA V2 Accessories
Both Mockingbird and UPPAbaby also offer numerous add-ons that help you customize the stroller to your needs.
The only Mockingbird accessory not sold for the VISTA V2 is a hand muff to warm your hands on winter walks. UPPAbaby offers a few options you won't find for the Mockingbird, like a travel bag (which comes with UPPAbaby insurance in case of airline mishaps) and a changing backpack that attaches to the handlebar.
The Mockingbird comes with a sun shade that can attach to the canopy. Mockingbird also offers these accessories sold separately:
Car seat adapters (numerous brands)
Bassinet
Bassinet stand
Riding board
Infant seat insert
Cup holder
Snack tray
Parent organizer
Seat liner
Footmuff
Hand muff
Rain cover 
Bug cover
The VISTA comes with a bassinet, stroller rain cover, and bug covers for the stroller and bassinet. Other VISTA accessories sold separately include:
Car seat adapters (numerous brands)
Piggyback ride-along board
Snack tray
Cup holder
Travel bag
Carry-all bag
Bassinet stand
Bassinet mattress cover
Seat liner
Infant SnugSeat
CozyGanoosh footmuff
Attachable Changing Backpack
Basket cover
Mockingbird vs. UPPAbaby VISTA V2 Colors and Fabrics
Both strollers offer ample padding and sun protection to keep your child comfortable, but the VISTA V2 features more high-end finishes and materials.
Materials
The UPPAbaby VISTA V2 fabrics are softer with more textured, woven fabric, giving the stroller a more premium look and feel compared to the Mockingbird.
The Mockingbird has two unique additions to its materials: a water-resistant canopy and a footrest that zips open to clean debris or snack crumbs off the seat.
The seat on the VISTA is more firm and supportive, while the less-structured Mockingbird seat can be pushed in from behind. The VISTA handlebar and bumper bar are made with genuine leather instead of the Mockingbird's faux-leather.
Canopy
On either model, you'll find two ventilation windows: a peek-a-boo window near the front of the canopy and a panel spanning the back of the canopy.
The Mockingbird comes with a separate sun shade that attaches to the canopy with magnets and spans the length of the seat, while the VISTA's sun coverage is built-in: Unzip the canopy to reveal more fabric that provides complete protection.
Colors
The Mockingbird allows you to choose the look of three stroller components: the fabric color, leatherette color and the interior canopy pattern. These choices are available for the Mockingbird:
Frame: Silver with penny leatherette or black leatherette
Fabric: Black, Sea Blue, Sky Blue or Bloom Pink
Canopy pattern: Watercolor Drops or Windowpane
The UPPAbaby VISTA V2 comes in these nine color combinations:
Alice Dusty Pink with saddle leather
Jordan Charcoal Melange with black leather
Jake Black with black frame and black leather
Bryce White Marl with chestnut leather
Gregory Blue Melange with saddle leather
Emmett Green Melange with saddle leather
Stella Brushed Grey Melange with saddle leather
Greyson Charcoal Melange with black frame and saddle leather
Declan Oat Melange with chestnut leather
Mockingbird vs. UPPAbaby VISTA V2 Pros and Cons
So which is better: the Mockingbird or UPPAbaby VISTA V2? Only you can decide which stroller best fits your family's needs, but here are the benefits and drawbacks we see.
Benefits
Direct-to-consumer pricing is less than half the price of the VISTA V2
Folds with one hand, compared with two-handed fold for VISTA
Comes with a lifetime warranty
Second seat kit includes upper/lower adapters, which are sold separately for VISTA
Both seats hold 45 pounds, compared with 35-pound weight limit for lower RumbleSeat on VISTA
Canopy material is water-resistant
Footrest zips open to help clean debris and crumbs
Drawbacks
Front-wheel suspension and smaller wheels offer less maneuverability
Toddler has to sit facing bassinet in double mode
Canopy is not height-adjustable like VISTA canopy
Handlebar flips up or down to change height positions, unlike telescoping VISTA handlebar offering more height adjustments
Not sold by retailers that can support customers before and after purchase
Requires car seat adapters to attach any car seat 
Harness requires re-threading
Fabrics offer less seat structure and support
Benefits
Includes larger, softer wheel with suspension in all four wheels for a smoother ride
More premium fabrics and structured seat
Comes with more accessories, including bassinet and rain and bug covers
Does not require car seat adapters for UPPAbaby MESA or adapters for all double configurations
Offers more configuration options, including ability to use infant car seat and bassinet in double mode without restricting view or space of toddler
Offers additional accessory options, such as travel bag with flight insurance
Stroller folds with seat tighter to the frame, making it easier to lift
Canopy is height-adjustable to accommodate a taller child
Sold by retailers like Strolleria who help you test-drive the stroller, compare it with other choices, and support you in the event of post-purchase questions
Drawbacks
Price is twice as high as Mockingbird
Lower RumbleSeat, with 35-pound capacity, may be too small for some toddlers, requiring your older child to sit in the upper position
Requires purchase of upper and lower adapters for double configurations involving a car seat or bassinet
3-year warranty is shorter than Mockingbird lifetime warranty
Conclusion
You get more when buying the UPPAbaby VISTA V2—whether you're talking about the included bassinet, the additional configurations, the superior suspension or the higher-end fabrics and materials.
You could also say you're buying the UPPAbaby reputation, as the VISTA has been a tried-and-true choice for thousands of families throughout more than a decade on the market—while the Mockingbird single-to-double debuted only in 2020.
But are those added benefits worth the price difference, considering the Mockingbird offers similar features and functionality?
Only your family can decide which qualities are most important in your stroller. But no matter which model you choose, either the Mockingbird or the VISTA V2 is versatile enough to support you through your family's many changes on the strolls ahead.
Questions?
Strolleria is a family-owned and operated retailer dedicated to making the baby gear buying experience less overwhelming for parents.
Strolleria is an authorized retailer of UPPAbaby products and an affiliate partner of Mockingbird. Strolleria may earn compensation from affiliate links in this content; please consider purchasing through these links if you found this comparison helpful.
If you have questions about the UPPAbaby VISTA or Mockingbird, feel free to contact us by starting a live chat, calling us at 480-442-9433 or e-mailing customercare@strolleria.com. 
Shop all single-to-double strollers below!
---