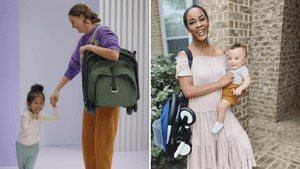 Bugaboo Butterfly vs. Babyzen YOYO2 Stroller Comparison
All travel strollers weigh less than your everyday stroller, but the best are lightweight without skimping on quality and maneuverability.
A decade ago, Babyzen introduced its game-changing YOYO, a stroller that offered full-sized features like all-wheel suspension and car seat compatibility—while folding compactly enough to fit in the overhead bin of an airplane.
Now, a long-popular luxury brand is challenging Babyzen for its place at the top of the travel stroller market.
The Bugaboo Butterfly goes head-to-head with the YOYO as another carry-on-sized stroller, featuring a one-second fold and an ergonomic seat designed for infants and older toddlers alike. New for 2022, the Butterfly replaces Bugaboo's now-discontinued Ant travel stroller.
We'll review the differences, pros and cons between the Bugaboo Butterfly and the Babyzen YOYO2 in this comparison.
Bugaboo Butterfly
The Butterfly features the same quality and maneuverability that Bugaboo strollers are known for—just in a smaller package.
Compact enough to be carried on your shoulder or stored in an overhead bin, the Butterfly offers features like an adjustable leg rest, spring-loaded basket, and no-rethread harness with quick-button release.
The Butterfly is newborn-ready when you attach an infant car seat and, with the highest backrest of any travel stroller, it comfortably fits an older toddler up to 50 pounds.
Babyzen YOYO2
The Babyzen YOYO2 was born in France, where its sturdy frame and all-wheel suspension can tackle anything from grassy parks to cobblestone streets.
The YOYO2 folds in a flash and can be carried by an integrated shoulder strap, then stored in its included carry bag.
Use the same frame to attach three different seat options to the stroller: the 0+ Newborn Pack for a soft bassinet that folds with the stroller, the Babyzen Bassinet for a hard-bottomed bassinet that can be used on the ground, or the 6+ Color Pack, which includes the seat fabric to be used when your baby is sitting upright.
Bugaboo Butterfly vs. Babyzen YOYO2 Price
At $429, the Bugaboo Butterfly costs just $20 less than the Babyzen YOYO2 6+.
It also comes with two accessories that would cost an extra $80 if purchased for the YOYO2: a rain cover and a leg rest, which Babyzen prices at $39.99 each. The YOYO2 comes with a lightweight storage bag, an option that isn't available for the Butterfly.
For Babyzen, the stroller frame can be purchased separately for $399.99, allowing the option to attach only an infant car seat or bassinet for a newborn before investing in seat fabrics later on. The Butterfly comes with seat fabrics included.
Complete Stroller Price
Bugaboo Butterfly: $429 (includes stroller frame with seat fabrics, rain cover and leg rest)
Babyzen YOYO2: $449 (includes stroller frame, 6+ pack with canopy and seat fabrics and carry bag)
Bugaboo Butterfly vs. Babyzen YOYO2 Weight and Dimensions
The Bugaboo Butterfly and Babyzen YOYO2 are almost identical in size, with both meeting carry-on requirements for most airlines, but the YOYO2 is 2.5 pounds lighter.
Bugaboo says the Butterfly has the highest backrest of any stroller, making it comfortable for an older toddler. While the YOYO's backrest is six inches shorter, its backrest isn't connected to the canopy like the Butterfly is, creating more head space for your child.
The seats for both the Butterfly and YOYO2 can be used for the same length of time, from approximately 6 months until your child reaches approximately 50 pounds.
Recommended Use
Bugaboo Butterfly: 6 months to 50 pounds (from birth with car seat)
Babyzen YOYO2: 6 months to 50 pounds (from birth with car seat, bassinet or 0+ Newborn Pack)
Stroller Weight
Bugaboo Butterfly: 16.1 pounds
Babyzen YOYO2: 13.6 pounds
Dimensions
Bugaboo Butterfly: 36.4"L x 17.7"W x 40.3"H
Babyzen YOYO2: 39"L x 17"W x 41"H
Folded Dimensions
Both strollers meet the carry-on standards of the International Air Transport Association: 22"L x 18"W x 10"D..
Bugaboo Butterfly: 21" x 17.7"L x 9"
Babyzen YOYO2: 20" x 17" x 7"
Basket Weight Capacity
Bugaboo Butterfly: 17.6 pounds
Babyzen YOYO2: 11 pounds
Seat Back Height
Butterfly: 24.8"
YOYO2: 17"
Bugaboo Butterfly vs. Babyzen YOYO2 Features
The Bugaboo Butterfly and Babyzen YOYO2 are among the top-performing travel strollers for both maneuverability and comfort.
Both stroller canopies offer ample sun coverage, as well as a peek-a-boo window that's plastic for the YOYO and a full-width, ventilated panel for the Butterfly. And both models include water-repellent fabrics and a leatherette handlebar.
The Butterfly has these features not seen on the YOYO:
A 5-position adjustable leg rest that can also double as a carry handle

A no-rethread harness with quick-release button that helps with easier adjustments as your child grows

A seat inlay that's padded for comfort and removable for easy machine washing

A flexible, spring-loaded basket that's easy to load and unload
The YOYO has these features not included on the Butterfly:
A zippered storage pocket on the seat back, near the canopy, for storing items like your phone or keys

A mesh pouch on the bottom of the seat back for extra items
Bugaboo Butterfly vs. Babyzen YOYO2 Configurations
If you're planning to use your stroller during baby's first months, the Babyzen YOYO2 offers more versatility in its configurations.
Both strollers can be paired with an infant car seat, but the YOYO offers two additional configurations for a newborn when you attach the hard-bottomed YOYO Bassinet or the soft, foldable 0+ Newborn Pack. The Bugaboo Butterfly does not have any bassinet options.
The soft Babyzen 0+ Newborn Pack folds with the stroller and includes a harness. The structured Babyzen Bassinet can be used off the stroller if you're visiting a friend or a restaurant, and it doesn't require a harness. 
See the differences between the 0+ Newborn Pack (left) and Bassinet (right) in the photo below.
How to Fold Bugaboo Butterfly vs. Babyzen YOYO2
Both strollers offer the smallest folds you'll find on a stroller, and both are easy to transport through airport security. The Butterfly offers a faster, one-handed fold, while the YOYO2 requires two hands for the first of two folding steps.
How to Fold the Bugaboo Butterfly
To fold the Bugaboo Butterfly, press the white button within the handlebar and lower the stroller until it's locked and standing. Press the same button to unlock the stroller and spring it back into place.
How to Fold the Babyzen YOYO2 
To fold the YOYO2, first press the white buttons at the top of the frame to collapse the handlebar and canopy. 
Then, find a red tab and black button located on the underside of the stroller. Press the button while pulling the tab, then grab the metal bar to allow the stroller to collapse and lock in place.
See how to fold the Babyzen YOYO in the video below.
Car Seats Compatible with Bugaboo Butterfly vs. Babyzen YOYO2
Streamline your travel gear by attaching a car seat to either the Bugaboo Butterfly or Babyzen YOYO2 using car seat adapters sold separately.
For both strollers, the car seat adapters must be removed for the most compact fold. On the YOYO2, the portion of the adapters that lock onto the frame can remain in place when folding, but the actual adapters should be removed. 
Car Seats Compatible with Bugaboo Butterfly
The car seat adapter for the Bugaboo Butterfly fits these car seats:
Bugaboo Turtle One and Turtle Air by Nuna
Clek Liing
Cybex Aton and Cloud series
Maxi-Cosi Mico series
Nuna PIPA series
Babyzen's car seat adapter fits the following car seats:
Clek Liing
Cybex car seats, excluding Cybex Cloud Q*
Maxi-Cosi infant car seats
Nuna infant car seats
* Although the Cybex Cloud Q fits on the stroller, Babyzen does not recommend its use, as the weight of the car seat and the child (at maximum weight) exceeds the capacity of the YOYO.
Bugaboo Butterfly vs. Babyzen YOYO2 Accessories
Customize both stroller for your needs by adding accessories like a cup holder for your beverages or a footmuff to keep your baby warm during wintertime strolls.
The Babyzen YOYO2 offers a few accessories that aren't available for the Butterfly, including a padded travel bag and two types of bassinets. It also comes with a carry bag that protects your stroller from dirt and debris.
The Butterfly comes with a rain cover and integrated leg rest, and a bumper bar is available separately. It's also compatible with universal Bugaboo accessories you won't find for Babyzen, like a smartphone holder and parent organizer bag.
Bugaboo Butterfly Accessories
Bumper bar
Cup holder
Footmuff and performance winter footmuff
Organizer
Parasol
Seat liner
Smartphone holder
Changing bag
Backpack
Wheeled Comfort Board 
Babyzen YOYO2 Accessories
Bugaboo Butterfly vs. Babyzen YOYO2 Colors and Fabrics
Both strollers offer high-quality fabrics that are water-repellent, as well as a black leatherette handlebar.
You can choose from a white or black frame for the YOYO2, which also offers a rainbow of color choices for the seat or bassinet fabrics. The Butterfly comes in three neutral colors.
The Butterfly comes in these colors:
Midnight Black
Forest Green
Stormy Blue
The YOYO2 offers these color choices for its fabrics:
Black
Gray
Taupe
Toffee
Peppermint
Aqua
Red
Ginger
Olive
Air France, a special-edition navy blue with interior blue and white pattern
Bugaboo Butterfly vs. Babyzen YOYO2 Pros and Cons
So which stroller is better: the Bugaboo Butterfly or the Babyzen YOYO2? Only you can decide which is best for your family, but here are the benefits and drawbacks we see.
Bugaboo Butterfly
Benefits
Costs $20 less than Babyzen YOYO2 ($100 less when considering included rain cover and leg rest)
No-rethread harness with quick-release button makes for easy adjustments and exits
5-position leg rest adds support as your child grows
Basket has higher weight capacity and is spring-loaded for easier accessibility
Ventilated panel in canopy adds breathability and a look at your child
Drawbacks
Weighs 2.5 pounds more than the YOYO2
Cannot be used with a bassinet
Offers fewer color choices 
Seat fabrics have to be disassembled for use as only a frame with car seat (or car seat must be placed on top of fabrics)

Babyzen YOYO2
Benefits
Can be paired with two types of bassinets for newborns (the hard-bottomed or Babyzen Bassinet or soft, folding 0+ Newborn Pack)
Includes two additional storage pockets in seatback
Offers more accessory options such as a travel bag
Has more color options for both seat fabrics and stroller frame
Can be purchased as a standalone frame for use with a car seat or bassinet
Drawbacks
Fold requires two steps (and for one step, two hands), compared with one-step, one-hand folded of Butterfly
Does not have no-rethread harness seen on Butterfly
Leg rest and rain cover are sold separately (included on Butterfly)
Requires some assembly when attaching a seat option to the frame
Questions?
Strolleria is a retailer dedicated to making the baby gear buying experience less overwhelming for parents. 
If you have more questions about the Babyzen YOYO2 vs. Bugaboo Butterfly debate, feel free to contact us at 480-442-9433 or customercare@strolleria.com.
---