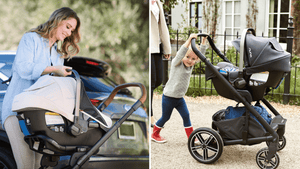 2019 Nuna PIPA vs. 2018 Nuna PIPA Car Seat Comparison
In 2019, Nuna added one more reason to choose its best-selling Nuna PIPA infant car seat.
In addition to being ultra-safe, stylish and compatible with a wide variety of strollers, the 2019 Nuna PIPA is one of the few that's also free of flame-retardant chemicals.
No changes were made to the Nuna PIPA Lite or Nuna PIPA Lite LX in 2019, aside for a few additional colors.
Read on to learn more differences between the 2019 Nuna PIPA and the 2018 Nuna PIPA.
Looking at newer car seat models? See this 2021 vs. 2020 Nuna PIPA Series comparison for the latest updates.
2019 Nuna PIPA vs. 2018 Nuna PIPA Colors and Fabrics
For 2019, Nuna is streamlining its color palette across its line of strollers, car seats and in-home gear. You'll find neutral colors such as Caviar Black, Frost and Granite Gray, and Aspen Blue on most of Nuna's 2019 products.
Each car seat in the 2019 Nuna line will come in new colors designed to match with the Nuna MIXX, TAVO, DEMI Grow and PEPP Next strollers. 
Plus, every color of the 2019 Nuna PIPA now features a brown leatherette handle instead of the previous plastic handle.
The 2019 Nuna PIPA is available in these colors:
Birch, an off-white with gray seat
Caviar Black
Frost, a lighter gray
Granite, a darker gray 
The Nuna PIPA Lite is currently available in these colors, with new colors coming later in 2019 at an undetermined date:
Aspen Blue
Ebony Black (transitioning to Caviar Black with brown handle later in 2019)
Granite Gray
Sage Green (coming later in 2019)
The PIPA Lite LX is available in these colors:
Aspen Blue 
Caviar Black
Granite Gray 
Frost Gray
Birch 
2019 Nuna PIPA vs. 2018 Nuna PIPA Fabrics
New for the 2019 model, the Nuna PIPA is free of flame retardant chemicals, as the PIPA Lite and Lite LX models already were. 
While exposure to flame retardants has not been directly correlated with health conditions, some experts are concerned that chemicals in car seats can break down and allow children to touch or inhale harmful toxins.  
According to a 2018 study by the nonprofit Ecology Center's Healthy Stuff program, 80 percent of the car seats tested contained chemical additives that have been associated with a range of health effects and environmental concerns.
Previous Nuna PIPA models do not have flame retardants in materials that touch the baby, only in the foam of the car seat. The 2019 PIPA has no flame retardants in the foam of the car seat.
The materials used for the PIPA Lite and Lite LX are not changing for 2019. While the PIPA Lite uses a soft, jersey-like polyester, the PIPA Lite LX is made with merino wool, which is hypoallergenic and helps regulate the baby's body temperature.
2019 Nuna PIPA vs. 2018 Nuna PIPA Price
Prices are not changing for the Nuna PIPA series in 2019. The car seats are sold at these prices:
Nuna PIPA: $299.95
Nuna PIPA Lite: $349.95
Nuna PIPA Lite LX: $399.95
Questions?
Strolleria is a family-owned and operated retailer dedicated to making the baby gear buying experience less overwhelming for parents. If you have more questions about the Nuna PIPA, feel free to contact us at customercare@strolleria.com.
Shop the Nuna PIPA series below!
---