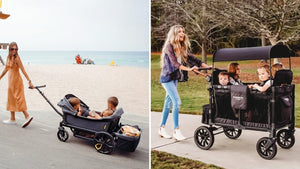 Veer Cruiser XL All-Terrain Wagon vs. WonderFold W4 Luxe Quad Stroller Wagon Comparison
Let the adventures begin with a wagon fit for the whole family! Wagons are certainly trending right now and for very good reason. They provide a hassle-free solution for squirmy toddlers who crave more room and may not love being strapped down in a stroller. Toddlers see a wagon as an adventure and parents love the peaceful, happy ride plus the additional storage one provides. From grocery hauls to beach trips and everything in between, a wagon may be the answer for your family!
In this article, two of the best selling wagons will go head to head: the Veer Cruiser XL All-Terrain Wagon and the WonderFold W4 Luxe Quad Stroller Wagon. Both hold up to four children at once, and offer amazing features to make your life with multiple children easier. Hopefully this comparison will help you decide which one makes the most sense for your lifestyle! 
Veer Cruiser XL Vs. WonderFold W4 LUXE Video 
Check out our YouTube video below comparing the Veer cruiser models, and the WonderFold wagons!
Veer Cruiser XL Vs. WonderFold W4 LUXE Pricing
The Veer Cruiser XL is priced slightly less than the WonderFold W4 LUXE, however, it does not come with any canopies or an extra storage basket. The WonderFold W4 comes with a few more items like a canopy, detachable basket, pull strap, and the 5-point harness seats (versus the 3-point harness seats of the Veer Cruiser XL). The Veer is more customizable, however, everything comes "a la carte."
For current pricing, follow the link to each product: 
And some customizable options with the Veer Cruiser XL: 
Veer Cruiser XL Vs. WonderFold W4 LUXE Specifications 
Due to their high cargo carrying capacity (up to 300 pounds!), the Veer Cruiser XL and WonderFold W4 LUXE wagons are a little heavier than your average double stroller. There is also a big weight difference between the Veer and the WonderFold. The Veer Cruiser XL comes in 26.3 pounds less than the WonderFold W4 LUXE! Do keep in mind that the WonderFold has more included in that weight - canopy, 5-point harness seats, and storage basket. Once you add those things to the Veer Cruiser XL the weight difference isn't as drastic, however, if weight is a big concern for you, the Veer may be more manageable.
Both stroller wagons hold up to 300 pounds of cargo, but less weight in terms of children - the Veer Cruiser XL holds 55 pounds per seat (220 pounds total) and the WonderFold W4 LUXE holds 99 pounds per 2 seat bench (198 pounds total). Not only does the WonderFold W4 LUXE weigh a significant amount more, it is also a lot larger than the Veer Cruiser XL when both opened and folded. The W4 will allow the children to sit much higher up off the ground, whereas they could easily climb in and out of the Veer. However, the WonderFold does have a very cool feature that allows children to easily crawl into their seat thru a front zipper door! 
Wagon Weight
Wagon Weight Capacity
Wagon Cargo Capacity
Wagon Open Dimensions
Wagon Folded Dimensions
Seating Surface Width (for 2 children on each side)
Warranty 
Veer Cruiser XL Vs. WonderFold W4 LUXE Features
Even though both the Veer Cruiser XL and the WonderFold W4 LUXE are wagons designed to hold 4 children, they are actually quite different. The Veer is more of a traditional pull wagon that can also be pushed. However, the push is very different than a stroller as the bigger wheels are in the front when pushing - you actually steer with the front wheels much like pushing a flatbed cart. You can also walk along side it and easily push it while walking! In comparison, the WonderFold W4 LUXE pushes like a traditional stroller. It is not made to pull like the Veer, however, you can attach the included pull strap if you wish to use it more as a traditional wagon.
Both wagons are very solid and well built - and they can both hold up to 300 pounds of cargo! They also both have footwells, meaning the children's legs will be comfortably bent out of the way, and their dirty shoes won't be on the seat where they sit. The WonderFold W4 Luxe does allow you to remove the hanging seats if needed though, versus the Veer's are built-in. Below are the features that make them similar and different! 
Features shared by Veer Cruiser XL and WonderFold W4 LUXE:
Holds up to 4 children

Holds up to 300 pounds of cargo weight

Adjustable-height handlebars

Footwells for comfort 

Large all-terrain tires 

All-terrain suspension

Some storage built into the wagon - on the Veer this is seen with mesh interior pockets; on the WonderFold this is seen on the outside and backs of seats 
Features unique to the Veer Cruiser XL:
One of the lightest full-size wagons on the market
Offers newborn configurations with a car seat or bassinet-like nap system
Removable snack / drink tray included with purchase 
Two parent cup holders included with purchase
Lockable handle over lockable swivel wheels can be adjusted to push like a stroller, pull like a wagon, or pull beside depending on environment
Offers many accessories sold separately such as sidewall kits to customize the color of your wagon, travel bag, weather cover, and shearling seat cover
Wagon can be hosed off outside to clean
Footwells are collapsible for extra compact folding 
Features unique to the WonderFold W4 LUXE:
5-point magnetic harness seats included
Storage underneath the seats 
Raised, removable and reclining seats
A zippered door that allows kids to climb in and gives parents easy access to storage
Numerous storage pockets on the sides and back of the wagon
Vegan leather handlebar 
Removable storage basket on the back of the wagon
UV protected removable canopy can slide up and down to adjust for the sun angle and taller children
Steers like a traditional stroller
Removable washable fabric 

Detachable rear basket with external storage pockets (extra on the Veer Cruiser XL)

Wagon can be used without the bench seats if needed for more cargo room 
Veer Cruiser XL Vs. WonderFold W4 LUXE Accessories 
The Veer Cruiser XL comes with the Cruiser wagon with 4 seats, two parent cup holders, gray sidewalls, and a child drink / snack tray. Veer does offer a multitude of accessories to customize your wagon, but they are all sold separate. The WonderFold W4 LUXE comes with the stroller wagon, canopy, detachable basket, pull strap, and removable seats with 5-point harnesses. You may not need to purchase any additional accessories, but WonderFold offers a wide array of add-ons if you desire! 
Accessories available for purchase for the Veer Cruiser XL:
Car seat adapters for various brands including Nuna, Cybex, Maxi Cosi, Uppababy, Peg-Perego, Chicco, and Graco 
Comfort seat for toddler with 5 point harness 
Retractable Canopy - each Veer Cruiser XL can hold one or two (comes with WonderFold W4 LUXE)
Foldable storage basket (comes with WonderFold W4 LUXE)
Sidewall kit to customize color of Veer XL
Travel bag
Nap System (makes the wagon like a bassinet)
Weather cover 
Additional parent cup holders 
Accessories available for the WonderFold W4 LUXE:
Snack tray
Parent console 
Cargo net for the side of the wagon
Rain cover 
Mosquito net 
Wind cover 
Winter cover
Dust cover
Travel cover
Floor mat
Shopping basket 
and more!  
Veer Cruiser XL Vs. WonderFold W4 LUXE Fold
Folding the Veer Cruiser XL
The Veer Cruiser XL can be folded compactly with just one hand, and can stand upright when folded for easier storage. The Veer Cruiser XL folds in four steps:
First, park and lock the wagon with the foot brake. Next, you will fold all four walls inwards in a couple easy stops: fold the front and back walls by pressing up on the button at either end and fold inwards. The long side walls will then fold inwards overtop.
Finally, fold the handlebar by lifting up on the two levers that also adjust the handlebar angle, and rest the handlebar overtop the folded sidewalls.
Stand your Veer Cruiser XL upright towards the larger rear tires, and repeat the folding steps in reverse to assemble your wagon. For a more compact fold, the wheels have a quick release mechanism that's handy for travel, tiny trunks, and small spaces.
Folding the WonderFold W4 LUXE
Despite its large frame, the WonderFold W4 LUXE wagon folds compactly with relative ease. It can be folded with the seats and canopy attached.
First, fold the handlebar down, and unlock the canopy rods at each of the four corners. Then, lower the canopy rods down into the frame.
Hidden under a storage pocket flap at the center sides of the wagon is a latch; push down on the latch so it slips over the locking tab and lift up on the frame with both hands to fold. To secure, attach the lock at the bottom of the wagon.
Veer Cruiser XL Vs. WonderFold W4 LUXE Colors
Veer Cruiser XL Colors
With purchase of custom sidewalls and canopies, the Veer Cruiser XL can make a statement - or blend into your environment - with a rainbow of colors and camouflage prints. If keeping it simple is your thing, neutral heathered grey sidewalls are included with purchase of the wagon.
It is quick to install a new canopy or a set of sidewalls. Plus, if you already have a Cruiser 2-seat model and upgrade to the 4-seat Cruiser XL, the sidewalls are interchangeable between models.
Sidewall colors:
Gray
Joshua Green
Sienna Orange
Kai Blue
Pele Red
Pink Agate
Savanna White
Camo
Ice Camo
Blue Camo
WonderFold W4 LUXE Colors
The WonderFold W4 LUXE wagon comes in three beautiful neutrals plus two attractive camo colors. There are two frame colors - black for all colorways except the Charcoal Gray with white frame. All colors include a beautiful brown vegan leather handlebar.
There is also a new special edition W4 LUXE inspired by the vintage VW bus! The new special edition stroller wagon will fulfill your nostalgic fantasies with all those classic WonderFold elements. It includes features like the classic VW bumper, functioning headlights, and retro all-terrain XL wheels!
WonderFold W4 LUXE colors:
Charcoal Gray with Black Frame

Volcanic Black

Shadow Green Camo

Charcoal Gray with White Frame

Elite Black Camo

Volkswagon Special Edition - offered in Bondi Blue and Sage Green - complete with wheel caps and working headlights ($1599)
Veer Cruiser XL Vs. WonderFold W4 LUXE Pros and Cons
So which is better, the Veer Cruiser XL or the WonderFold W4 LUXE? While only you can decide which one is just right for your lifestyle and family, here are some benefits and drawbacks that we see between these models.
Veer Cruiser XL Wagon 
Benefits
Can push, pull, or walk along side while steering 
26.3 pounds lighter making it easier to lift in and out of your vehicle
Wheels come off for slimmer fold / storage 
Customization options available 
Can be easily hosed off; great all-terrain option and for getting dirty
Comes with removable child snack/drink tray plus two parent cup holders
Lower side profile allows children an easier time getting in and out on their own 
Drawbacks
Only 3-point straps included - have to purchase comfort seats if you want more padding plus the 5-point harness straps 
Most accessories sold separately - the add-ons can get expensive
Does not fold with canopies or snack tray attached
Only folds with one comfort seat attached  
WonderFold W4 LUXE Wagon
Benefits
Higher seat profile brings children closer to parents
Footwell adds storage space under seats
Zip open door for easy access for children to crawl in
More additional storage space and pockets
Folds with canopy attached
Adjustable canopy positioning for sun or taller children
Drawbacks
Pull handle sold separately, only a lightweight strap included

26.3 pounds h

eavier
Larger frame takes more effort to fold or lift plus have to have a bigger trunk to fit it
QUESTIONS?
Strolleria is an authorized retailer of Veer and WonderFold products dedicated to making the baby gear buying experience less overwhelming for parents.
If you have more questions about the Veer Cruiser XL vs. WonderFold W4 LUXE debate, feel free to chat with us on our website, or email us at customercare@strolleria.com.
---