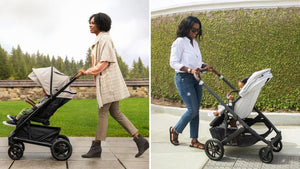 UPPAbaby CRUZ V2 vs. Nuna TAVO Next Comparison
Nuna and UPPAbaby are often compared, and for good reason! They're two luxury brands that offer beautiful fabrics, comfortable rides, effortless pushes, and easy to use features. In this comparison we will look at the Nuna TAVO Next and UPPAbaby CRUZ V2.
The CRUZ V2 is priced higher, with some additional features like a reversible seat that can be removed and replaced with a bassinet or car seat. But while the seat of the TAVO Next is not removable, it still offers some similar features and is a great option for parents who want to spend a little less, but still want a luxurious ride for their baby!
So which is better for your needs: the Nuna TAVO Next or the UPPAbaby CRUZ V2?
In this post, we'll explain the differences, benefits and drawbacks of the Nuna TAVO Next and UPPAbaby CRUZ V2.
Nuna TAVO Next Stroller
While being a more budget-friendly option, the Nuna TAVO Next doesn't skimp on features.
Unlike the other full size Nuna strollers, no adapters are required to turn the TAVO Next into a travel system: simply place the car seat between the back of the seat and the bumper bar, and the car seat safely locks into place.
Updated to the TAVO Next model in late 2020, the stroller now includes improved suspension; a smaller, standing fold; added leatherette details and a magnetized harness that makes it quick and easy to buckle in your child. 
UPPAbaby CRUZ V2 Stroller
Recently updated in 2020, the UPPAbaby CRUZ V2 is UPPAbaby's full-featured single stroller geared towards parents who want it all, but in a more compact size than the convertible UPPAbaby VISTA V2 stroller.
Learn more about the UPPAbaby CRUZ V2 from our review below:
Nuna TAVO Next vs. UPPAbaby CRUZ V2 Price
With its extra features like a removable and reversible seat, bassinet compatibility, and a multitude of available accessories, the UPPAbaby CRUZ V2 costs $150 more than the Nuna TAVO Next.
The Nuna TAVO Next comes with the stroller, seat liner, and bumper bar. All models of the Nuna PIPA infant car seat will attach to the stroller without the use of an adapter to create an easy travel system. The UPPAbaby CRUZ V2 includes the chassis, toddler seat, bumper bar, bug shield, and rain shield. It does not need a car seat adapter to use with the UPPAbaby MESA line of infant car seats.
Stroller Price
Nuna TAVO Next vs. UPPAbaby CRUZ V2 Weight and Specifications
The UPPAbaby CRUZ V2 is larger than the Nuna TAVO Next: it's about 8.5 inches longer; however, they both weigh approximately the same since the TAVO Next is weighed without its seat insert, canopy, or bumper bar. The TAVO Next and the CRUZ V2 also have almost identical size front and rear wheels (TAVO Next front wheels are 7.5" whereas CRUZ V2 are 7"; both have 10" rear wheels).
Although there is a bigger difference in overall length, both strollers are very similar in terms of dimensions when folded. For being that much bigger, the CRUZ V2 does fold pretty compact!
As far as the seat size, the CRUZ V2 is a littler larger in terms of seat back height and leg rest length. However, the TAVO Next seat is very roomy and has an overall higher seat to canopy height (24" vs. 23") meaning the child's head will fit comfortably under the canopy for longer. The TAVO Next has one of the highest seat to canopy heights when compared to other full size strollers! The TAVO Next also has a deeper seat for your growing child.
Stroller Weight
Nuna TRIV Next

: TAVO Next: 23.2 pounds (without seat insert, canopy or bumper bar) - Similar to CRUZ V2 when all pieces connected

UPPAbaby CRUZ V2

: 25.5 pounds 
Weight Capacity
Dimensions
Folded Dimensions
Seat Back Height
Seat to Canopy Height
Seat Depth
Wheel Size
Nuna TAVO Next vs. UPPAbaby CRUZ V2 Configurations
The UPPAbaby CRUZ V2 offers more configurations than the Nuna TAVO Next because its seat can face either direction, while the TAVO Next seat only faces forward. Additionally, only the CRUZ V2 can be used with a bassinet.
Why is a bassinet necessary when an infant can ride in a car seat? A bassinet allows your baby to lie flat, which is healthier for their developing neck and spine than the slightly upright position of the car seat. Car seats can restrict baby's airways and aren't recommended for prolonged use or for sleeping outside the car.
The UPPAbaby bassinet is approved to be safe for overnight sleep when placed on the UPPAbaby bassinet stand or another flat surface. Many families use the bassinet as baby's first crib at your bedside, or at least for travel and naps at family or friends' houses. Plus, the bassinet also offers far more ventilation than a car seat, which, with its protective foam, tends to make babies sweaty. It allows them the freedom to stretch out and sleep or ride comfortably!
However, the Nuna TAVO Next is newborn-friendly when you recline the seat to a fully-flat position, and the end of the seat can also be enclosed with fabric snaps for a cozier setting. This becomes sort of like a bassinet, making a separate bassinet not needed when strolling! However, you do lose the convenience of bringing a separate bassinet into the house after your stroll or using a stand alone bassinet at Grandma's or by your bedside.
All Nuna infant car seats attach to the TAVO Next without the use of an adapter. It simply secures onto the belly bar. The MESA, MESA V2, and MESA Max will attach to the CRUZ V2 stroller frame without the use of an adapter as well. Unlike the TAVO Next, the CRUZ V2 can take a wide array of car seat brands with the use of an adapter. For example, with the purchase of an adapter you can use all of the same Nuna PIPA models that work with the TAVO Next.
Nuna TAVO Next vs. UPPAbaby CRUZ V2 Features
Both strollers are built to function as simple, comfortable single strollers. Shared features include accessible storage baskets, telescoping handlebars for parents of different heights, and the ability to attach an infant car seat without the use of adapters.
We'll explore the features of each stroller component in this section to see what differentiates the Nuna TAVO Next from the UPPAbaby CRUZ V2.
Stroller Seat Features
Since the stroller seat is where your baby will be sitting, relaxing, and sleeping at times, it's important to pick a stroller that offers a roomy, comfortable, and adjustable seat that can support your growing child! Let's dive into the seat features of both of these strollers:
Seat features shared by TAVO Next and CRUZ V2:
Multiple recline positions adjustable with one hand
Adjustable calf support angles and integrated footrest
Included, swing-out bumper bar
No-rethread harness
Canopy with UPF 50+ that has a zip out canopy extension 
Ventilated peak-a-boo window on the canopy
Seat features unique to the TAVO Next:
Nuna's new MagneTech Secure Snap technology uses magnets to guide the harness buckle into place
The back of the TAVO Next canopy can be unzipped to open a large ventilated window
All-season seat keeps baby cozy in winter and easily converts to mesh in summer
Removable infant insert adds extra support for small babies  
Luxe leatherette bumper bar
Seat fully reclines for newborn
Higher seat-to-canopy height and deeper seat
Seat features unique to the CRUZ V2:
Reversible and removable toddler seat
Adjustable-height canopy
Taller backrest on the seat 
Longer calf support
Real leather bumper bar
Stroller Frame Features
Now comes the foundation of the stroller: the stroller frame. Both Nuna and UPPAbaby use the highest quality materials and engineering to develop a frame that will withstand daily use for many years. A well designed stroller frame will be both sturdy and lightweight, easy to push, and function to lessen the bumps the child feels while strolling.
Frame features shared by TAVO Next and CRUZ V2:
Lightweight aluminum frame
One-handed telescoping handlebar to multiple height settings
Four-wheel suspension
Stands upright when folded
Easy to access storage basket
Frame features unique to the TAVO Next:
One-touch foot brake for easy stop and go
Vegan leather handlebar
Frame features unique to the CRUZ V2:
Oversized storage basket holds up to 30 pounds
Organizing pockets built into basket for drinks, weather covers, and more
Flexible bar at back of storage basket makes space for larger items
Separate, color-coded foot brakes for locking (red) and unlocking (green)
Genuine perforated leather handlebar
Seat is removable - you can just bring the frame if you using with a compatible car seat or bassinet
How to fold the Nuna TAVO Next vs. UPPAbaby CRUZ V2
Both the Nuna TAVO Next and the UPPAbaby CRUZ V2 have easy and simple folds! They also both stand when folded. They fold to sizes small enough to easily fit in the trunk of most vehicles or store in an entry way or coat closet.
Folding the TAVO Next is super easy! Simply pull up on the triggers integrated into the frame, and the stroller instantly folds in half. It can be rotated into a standing position when folded for convenient storage and pickup. You can also trolley the stroller like a suitcase, making it easy to transport when not in use.
To unfold the TAVO Next, simply undo the lock on the side of the frame, pull the handle on the seat back and lift it back into place.
To fold the UPPAbaby CRUZ V2, first lock the brake to stabilize the rear wheels and make sure the seat is facing forward (or has been removed from the frame if not). Lower the handlebar to its shortest setting, then lift up on the grey tabs at the right and lefthand sides of the handlebar and lower it toward your feet.
The CRUZ V2 automatically locks when folded and stands upright, resting on the two rear wheels and two small rubber bumpers in the middle of the handlebar.
Hinge the lock inwards and lift the handlebar up to open the stroller.
Nuna TAVO Next vs. UPPAbaby CRUZ V2 Fabrics and Materials
The TAVO Next has a luxe leatherette handlebar and bumper bar. The
seat insert is made with a merino wool and Tencel blend - natural fabrics that are sustainable and help to keep your child stay warmer in the winter and cooler in the summer. Merino wool also has bonus properties, like being soft, hypoallergenic and environmentally-friendly. The seat insert can be removed to reveal a mesh seat back, which helps cool off your child in warm temperatures. The back of the TAVO Next canopy can also be unzipped to open a large ventilated window.

Three fashions are available for the Nuna TAVO Next:
Hazelwood (light tan)
Caviar (black)
Granite (gray)
UPPAbaby uses durable, soft, and easy-to-clean polyester blend fabrics for the CRUZ V2 stroller seat, canopy, and basket, plus genuine, full-grain leather handlebars and bumper bars with an elegant perforated pattern.
There are two frame colors, a silver aluminum with grey touch points, and carbon matte black with black touch points, both scratch-resistant and easy to care for, plus three leather colors (black, chestnut brown, and saddle brown) depending on which fashion you select.
With selections updated each year, UPPAbaby currently offers seven fashions for the UPPAbaby CRUZ V2:
Anthony White and Grey Chenille
Greyson Grey Melange
Noa Navy Blue
Gwen Green Melange
Alice Dusty Pink
Gregory Blue Melange
Jake Charcoal Black
Nuna TAVO Next vs. UPPAbaby CRUZ V2 Car Seat Compatibility
Both the TAVO Next and CRUZ V2 frames can accommodate an infant car seat to create your own travel system.
The Nuna TAVO Next is compatible with any car seat in the Nuna PIPA series: the PIPA, PIPA RX, PIPA Lite, PIPA Lite R, PIPA Lite LX, PIPA Lite RX, PIPA Urbn (Urbn not sold on its own). See our comparison for the differences between the seven models. No other car seat brands will fit on the TAVO Next.
No car seat adapters are required for the Nuna TAVO Next: the car seat simply snaps into the seat, secured by the bumper bar. But because the seat on the TAVO is not removable, the car seat sits on top of the stroller seat, which adds bulkiness and weight. The canopy of the stroller can either be removed for a cleaner look or used in combination with the car seat canopy to create a full-coverage cocoon for your baby.
On the other hand, UPPAbaby offers two infant car seat models that are compatible with the CRUZ V2 without purchase of adapters. To attach one of these car seats you simply remove the Toddler Seat and the car seat clicks in on each side of the stroller frame. To unhook the infant seat you click on the button on the car seat's carrying handle and lift up!
The UPPAbaby MESA V2 and MESA Max infant car seats both fit the UPPAbaby CRUZ V2 without adapters. Learn more about these two car seats in this comparison video:
In addition to the MESA V2 and MESA Max, there are several other popular car seat models from other brands that fit the CRUZ V2 with purchase of adapters.
Car Seats Compatible with UPPAbaby CRUZ V2
Chicco KeyFit 35, KeyFit 30, KeyFit 30 Zip, KeyFit 30 Zip Air, Fit2, Fit2 LE, Fit2 Air
Clek Liing and Liingo
Cybex Aton, Aton 2, Aton Q, and Cloud Q
Maxi-Cosi Mico 30, Mico Max, and Coral XP
Nuna PIPA, PIPA RX, PIPA Lite, PIPA Lite R, PIPA Lite LX, PIPA Lite RX, and PIPA Urbn
Peg Perego Primo Viaggio 4-35, 4-35 Nido, and 4-35 Lounge
UPPAbaby MESA, MESA V2, MESA Max
Car Seats Compatible with Nuna TAVO Next
Turn your Nuna TAVO Next stroller frame into a travel system with purchase of one of the 7 Nuna PIPA infant car seats listed below. No other brand car seat will work with the TAVO Next.
Nuna PIPA
Nuna PIPA RX
Nuna PIPA Lite
Nuna PIPA Lite R
Nuna PIPA Lite LX
Nuna PIPA Lite RX
Nuna PIPA Urbn (cannot be purchased separately; sold as a travel system with the Nuna TRIV Next, TRVL, or MIXX Next)
Nuna TAVO Next vs. UPPAbaby CRUZ V2 Accessories
More accessories are available for the UPPAbaby CRUZ V2 than for the Nuna TAVO Next, making the CRUZ V2 a more versatile stroller. The CRUZ V2 can be paired with a bassinet approved for overnight sleeping, and unlike the TAVO Next, it offers every parent's favorite accessory: a cup holder for Mom and Dad! It also offers a PiggyBack board for an older child to use when their little legs get tired of walking!
Nuna offers the following accessories for the TAVO Next:
Rain cover

(a rain cover comes included with the CRUZ V2)
UPPAbaby offers the following accessories for the CRUZ V2:
Infant SnugSeat (for newborns to be able to use the Toddler Seat)
Seat liners in various colors
Nuna TAVO Next vs. UPPAbaby CRUZ V2 Pros and Cons
So which stroller is better: the Nuna TAVO Next or the UPPAbaby CRUZ V2? Only you can decide! Let's highlight the benefits and drawbacks of each.
Benefits
Cost $150 less than the CRUZ V2
All-season seat keeps baby cozy in the winter and easily converts to a mesh seat in the warmer months
More ventilation    
Removable, washable seat insert 
A bit lighter weight  
Taller seat to canopy height - fitting a taller child underneath the canopy
Stroller seat can be used from birth when fully reclined back
One-handed fold 
Drawbacks
Not as many accessories offered, such as no parent cup holder or ride along board
Smaller selection of colors
Compatible with only Nuna car seats
Seat is not removable, which adds bulk and weight to the travel system
Seat is not reversible to allow parents to watch over a younger child
Seat fabric is not tailored to back of seat causing extra fabric to bunch up
Shorter leg rest
Benefits
Seat is removable, allowing car seat or bassinet to attach in its place
Reversible seat allows baby to face you or face forward
Bassinet offers roomy, ventilated place for baby to sleep while strolling or overnight
Higher storage basket capacity of 30 pounds
Compatible with additional car seat brands including UPPAbaby, Chicco, Nuna, Clek, Maxi-Cosi, and Peg Perego
More accessories available for purchase including: parent cupholder, PiggyBack board, cozy ganoosh, and more
Taller seatback and longer calf support
Drawbacks 
Cost $150 more than the TAVO Next
A bit heavier and a little bigger when folded
Harder to remove seat fabric to wash versus the seat insert on the TAVO Next
Toddler seat cannot be used from birth without additional products - unlike the TAVO Next
Questions?
Strolleria is an authorized retailer of UPPAbaby and Nuna products, dedicated to making the baby gear buying experience less overwhelming for parents. If you have more questions about the Nuna TAVO Next vs. UPPAbaby CRUZ V2 debate, feel free to contact us at 480-442-9433, starting a live chat on our website, or emailing us at customercare@strolleria.com. 
---