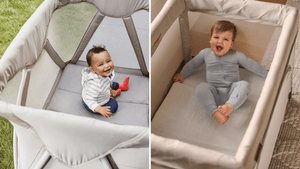 Nuna Sena Aire vs. UPPAbaby REMI Playard Comparison
Shopping for a great travel crib for your next trip? Leading stroller and car seat brands Nuna and UPPAbaby both make a full-sized playard.
In addition to other home gear such as a high chair and lounger, Nuna has offered the Aire series playards for many years, designing a range of choice for parents from the full-sized SENA Aire Playard to its mini version that has been phased out, plus a narrow bedside version called the COVE Aire GO.
Known for their versatile stroller line, the REMI Playard is UPPAbaby's first venture into home gear, making a splash with a wide range of helpful accessories for travel and for the nursery.
Both the UPPAbaby REMI and Nuna SENA Aire playards offer a bassinet option, changing accessory, and fold compactly for easy transport to grandparents house or air travel. They're both also GREENGUARD Gold certified to have met rigorous testing and standards for quality and safety to ensure a healthy environment for your little one.
With so many similarities, it can be hard to choose! We'll help explore more about features, dimensions, ease of use, and more further in this article.
Let's see how the SENA Aire and REMI compare.
UPPAbaby REMI Video
See more details and features of the UPPAbaby REMI Playard in this review video:
NUNA SENA AIRE VS UPPABABY REMI WEIGHT AND DIMENSIONS
Overall, the REMI is slightly smaller and lighter weight than the SENA Aire - that's helpful for frequent travel and storage. However, you may prefer a slightly roomier playard like the SENA Aire if you plan to keep the playard in one home much of the time.
SENA Aire vs REMI Weight (without Bassinet)
SENA Aire: 22 pounds
REMI: 20 pounds
SENA Aire vs REMI Dimensions Open
SENA Aire: 41.3" L x 30" W x 29" H
REMI: 40.5" L x 26" W x 28.5" H
SENA Aire vs REMI Dimensions Folded
SENA Aire: 11" L x 13" W x 31.5" H
REMI: 11" L x 10" W x 28.5" H
SENA Aire vs REMI Playard Capacity
SENA Aire: up to 30 pounds and 35" tall
REMI: up to 35" tall
SENA Aire vs REMI Bassinet Weight Capacity
SENA Aire: birth to 15 pounds
REMI: birth to 20 pounds
NUNA SENA AIRE VS UPPABABY REMI FEATURES
Both the Nuna SENA Aire and UPPAbaby REMI are quick to fold, compact for travel, and built to the highest standard for you and your child's health.
With GREENGUARD Gold Certification, both the SENA Aire and now the REMI are two of the most natural playard options you can choose from, being scientifically proven to reduce VOCs by meeting rigorous third-party chemical emissions standards.
Use the SENA Aire or REMI from birth with the included bassinet attachments, which each attach overtop the playard for an elevated position that is easier for parents or caregivers to reach. The SENA Aire has a larger bassinet mattress than the REMI because the SENA Aire mattress stays the same size from bassinet to playard mode - reaching to all four sides of the playard. With the REMI bassinet, you'll adjust the included mattress to its smaller size for use in the bassinet setting, which has sloped mesh sides surrounding the inset mattress.
Nuna designed the SENA Aire playard to allow for 360° ventilation; v-shaped supports extend from the lower corners to upper sides, which means baby has mesh windows on all four sides but also all four corners.
UPPAbaby designed the REMI playard with mesh windows at all four sides, with vertical posts at each corner for support. Unique to the REMI, a zip out window at the side lets you easily access your child at their level. Just unzip the window and tuck the surplus mesh out of the way for ins and out and interaction during playtime or soothing a fussy child at nap-time.
NUNA SENA AIRE VS UPPABABY REMI COLORS
The Nuna SENA Aire Playard is available in three colors:
Caviar black
Granite grey
Champagne beige
The UPPAbaby REMI Playard features 100% full grain leather accents and is available in four colors:
Jake charcoal black
Stella brushed grey melange
Charlie sand melange
Noa navy melange
NUNA SENA AIRE VS UPPABABY REMI ACCESSORIES
Both Nuna and UPPAbaby offer similar accessories for their playards, including a changing station and spare mattress covers.
Nuna already includes one organic cotton sheet with purchase of the SENA Aire, as well as a lightweight travel bag that uniquely fits the SENA Aire for easy transport on the go. A Changer to match is sold separately, handy to have when you're not at home or for grandparents to keep on hand for visits.
UPPAbaby typically offers a diverse range of accessories for their products and the REMI is no exception, offering a few more accessory options that offer unique benefits.
For additional shade during nap time at your hotel room or family gathering, the UPPAbaby REMI Canopy accessory attaches overtop with a mesh window for air flow and visibility. Choose between an organic cotton mattress cover (already included with purchase) or waterproof mattress cover for added protection. With the Changing Station - designed to easily collapse and fold out of the way when not in use - you can also get a handy organizer for diapers and wipes that attaches to the side of your REMI.
Nuna SENA Aire Accessories
UPPAbaby REMI Accessories:
Organic Cotton Mattress Cover
Waterproof Mattress Cover
NUNA SENA AIRE VS UPPABABY REMI PROS AND CONS
So which is better, the Nuna SENA Aire or the UPPAbaby REMI?
Nuna SENA Aire
Benefits
Mesh panels at all four corners and sides
Larger mattress area for bassinet mode
Folds with bassinet attached
Drawbacks
Bassinet attaches and removes with 4 buckles and 4 snaps at the sides and corners, which takes longer to attach and remove
Two pounds heavier
UPPAbaby REMI
Benefits
Side panel zips open for easy access to baby
Zip-on mesh bassinet is quick to attach and remove
Two pounds lighter weight, more compact
Drawbacks
Smaller bassinet mattress area
Bassinet must be removed to fold
QUESTIONS?
Strolleria is an authorized retailer of Nuna and UPPAbaby products dedicated to making the baby gear buying experience less overwhelming for parents.
If you have more questions about the Nuna SENA Aire vs. UPPAbaby REMI debate, feel free to contact us at 480-442-9433 or customercare@strolleria.com
---