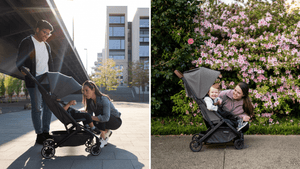 Joolz Aer vs. UPPAbaby Minu V2 Stroller Comparison
What comes to mind when you envision the perfect travel stroller? A few things that are likely on your list include a straightforward fold, comfortable seat for your child whether they're small or tall, and storage space for your essentials.
Two standout models from the plethora of lightweight strollers include the award-winning Joolz Aer and UPPAbaby Minu V2. Both strollers fold with just one hand, can be carried over your shoulder while folded, and have a range of useful accessories to make your life easier on the go.
At 13.4 pounds and 16.9 pounds, respectively, both strollers are lightweight and can fit in some airplane overhead bins, though the Aer is the most compact between the two. With roomy, comfortable seats that offer plenty of shade, easy adjustments, and support up to 50 pounds, the Aer and Minu could be either your travel stroller or your compact everyday stroller transitioning from the sidewalk to the tarmac with ease.
So which stroller is better: the Joolz Aer or the UPPAbaby Minu V2? We'll explain all the details, benefits and drawbacks in this in-depth comparison.
Joolz Aer vs. UPPAbaby Minu V2 Video
Get a side-by-side look at the current Joolz Aer and UPPAbaby Minu V2 strollers in this video:
Joolz Aer Review Video
See more details on the Joolz Aer stroller and bassinet in this video:
UPPAbaby Minu V2 Review Video
See what's new in the Minu V2 stroller, updated in 2022, in our Minu V2 stroller review:
Joolz Aer vs. UPPAbaby Minu Price
Both the Joolz Aer and UPPAbaby Minu V2 are priced at $449 each, including the stroller frame and a toddler seat that supports up to 50 pounds.
Neither stroller can be used from birth without purchase of either a bassinet or compatible infant car seat.
Infant car seats compatible with the Aer and Minu range in price from $219 to $499, with purchase of adapters.
Aer adapter price: $44.99

Minu V2 adapter price: $24.99 for Mesa/bassinet adapter, $49.99 for other brands
Alternatively, a lay-flat bassinet is available for the Minu and for the Aer. The Joolz Aer bassinet is lightweight and can fold while attached to the stroller, whereas the Minu V2 bassinet requires purchase of adapters and must be removed from the frame to fold, but is approved for overnight sleeping.
Stroller Prices
Bassinet Prices
Joolz Aer vs. UPPAbaby Minu Weight and Dimensions
Overall, the Joolz Aer is lighter weight and is more compact once folded compared to the UPPAbaby Minu V2.
Over 3 pounds lighter than the Minu, the Aer is ideal for air travel and ultra compact spaces, while the Minu's added features like included bumper bar and adjustable calf support mean you get a compact stroller without sacrificing full-sized features.
Both strollers fold more compactly than most, and are comfortable to carry over your shoulder when needed.
When in us, the Aer is nearly 3" narrower than the Minu, and once folded the Aer is also 3" shorter with dimensions that fit within most airline's carry on requirements. The slightly bulkier Minu may not qualify as a carry on for some airlines, and it is always best to call ahead to confirm if you plan to carry on your travel stroller.
Product Weight
Joolz Aer: 13.4 pounds

Minu V2: 16.9 pounds
Dimensions
Joolz Aer: 32.7" L x 17.7" W x 41.5" H

Minu V2: 35.5"L x 20.25"W x 41"H
Folded Dimensions 
Joolz Aer: 21" L x 17.7" W x 8.5" H

Minu V2: 12"L x 20.25"W x 23"H
Joolz Aer vs. UPPAbaby Minu Weight Capacity
As with most compact strollers, neither the Aer nor Minu can be used right out of the box with a newborn, since the included toddler seats do not fully recline.
UPPAbaby recommends waiting until your baby is at least 3 months old to begin using the Minu stroller seat, while Joolz recommends waiting until 6 months to begin using the Aer stroller seat. Between the ages of 3 and 6 months, infants develop their head and neck support to safely be seated at a more upright angle.

With separate purchase of a compatible bassinet or infant car seat and any necessary adapters, both the Aer and Minu can be used from birth with the corresponding infant attachments.
Aer: 6 months to 50 pounds (from birth with bassinet or car seat)

Minu: 3 months to 50 pounds (from birth with bassinet or car seat)
Joolz Aer vs. UPPAbaby Minu Warranty
Joolz is one of the few brands at this time to offer a lifetime warranty on all of their strollers, including the Aer; comparable to other premium brands like Silver Cross and Bugaboo, UPPAbaby offers a 2+1 year warranty coverage.
Manufacturer's warranties cover manufacturing damage and defects, but do not cover misuse, improper care and storage, or standard wear and tear.
Aer: lifetime warranty with registration
Minu: 3 years with registration
Joolz Aer vs. UPPAbaby Minu Fold
Both the Aer and Minu feature a single-motion, one handed fold, though the Minu requires two hands to unfold whereas the Aer also has a one-handed process to unfold.
How to Fold Joolz Aer
With one hand, press and hold the round button then squeeze the fold lock to collapse the Aer stroller in one motion. Press the same two buttons to reverse the motion and unfold your Aer with one hand.
While the Aer is folded, it can be carried over your shoulder with a built-in elasticized carry strap.
After taking your baby out of the bassinet, you can fold the Joolz Aer while the bassinet is still attached for easy storage. Press down on the foot of the bassinet while it's attached to the Aer, lift up on the folding lever on that end of the bassinet, then tilt the head of the bassinet towards the front of the stroller. You can then fold the Aer frame as described above.
See how to fold the Aer stroller and Aer with bassinet in this section of the Aer review video:
How to Fold UPPAbaby Minu
You only need one hand to fold the Minu. Using your thumb on one side of the handlebar button and fingers on the other, press in and down until the stroller collapses and auto-locks.
When the Minu is folded, the canopy and seat back remain unsecured. That means the fabric can be a bit floppy, especially if the seat back was reclined.
To unfold the Minu, simply undo the lock on the side of the stroller and pull up until it springs back into place.
Car Seats Compatible with Joolz Aer and UPPAbaby Minu
Both the Joolz Aer and the UPPAbaby Minu are compatible with car seats from leading brands with purchase of adapters, sold separately for either stroller.
UPPAbaby Mesa series
Cybex Aton series
Maxi-Cosi Mico series, Pebble, Pebble Plus, Cabrio Fix, Citi
Nuna PIPA series
Clek Liing
Cybex car seats
Nuna PIPA series
Joolz Aer vs. UPPAbaby Minu Pros and Cons
So which stroller is better: the Joolz Aer or the UPPAbaby Minu? Only you can decide which is best for your family, but here are the benefits and drawbacks we see.
Benefits
Large seat with more space under the canopy is comfortable for larger toddlers
Recline angle is easier to adjust quickly
Adjustable calf support
Peek-a-boo window on top of canopy allows for viewing and ventilation
Canopy sunshade extends farther for additional sun protection
Bassinet is overnight sleep approved
Drawbacks
Less compact than Aer and may not fit in all overhead bins
Weighs about 3.5 pounds more than YOYO2
Must remove bassinet to fold the stroller
Takes two hands to unfold because of the locking mechanism
Shorter warranty period from the manufacturer
Benefits
Unique recline design provides consistent back support at any recline angle
Lifetime warranty versus 3 year extended UPPAbaby warranty
Unfold with just one hand
Lighter weight by approximately 3.5 pounds
More compact fold ideal for overhead bin space
Added ventilation along seat when reclined
Bassinet folds with stroller frame
Drawbacks
Not as easy to recline
Smaller canopy extension
Bassinet is not overnight sleep approved
Conclusion
Both the UPPAbaby Minu and Joolz Aer are parent favorites with their own pros and cons. The Aer is more compact, lighter weight, and as a result is more likely to qualify as an airplane carry-on. But with an easier recline, larger stroller seat, and adjustable calf support the Minu may be a better fit for larger toddlers.
Parents searching for a lightweight stroller that is bassinet compatible and has a one-handed fold for travel or everyday convenience can't go wrong with either choice.
Questions?
Strolleria is an authorized UPPAbaby and Joolz retailer based out of Arizona, dedicated to making the baby gear buying experience less overwhelming for parents. 
If you have more questions about the Joolz Aer vs. UPPAbaby Minu debate, feel free to contact us at 480-442-9433 or customercare@strolleria.com.
Shop the Minu and Aer below!
---