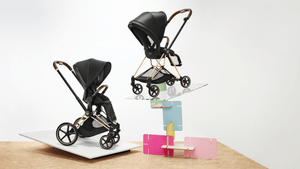 Cybex Priam3 vs. Cybex Mios2 Stroller Comparison
If your stroller needs to drive well and look even better, the Cybex Priam3 and Mios2 are two of the most functional and fashionable options you'll find.
Designed in Germany, Cybex strollers are built for practical parenting but come in dozens of colors and unique patterns to suit your personal style. Cybex even takes inspiration straight from the fashion industry, collaborating with celebrity designers like Jeremy Scott—and gaining celebrity stroller fans in return.
The Priam3 and Mios2 both offer must-have features like all-wheel suspension, a one-handed fold, and car seat compatibility, but the two models—part of the premier Cybex Platinum line—are quite different, too.
The Priam3 is a full-sized stroller with robust wheels and more storage space for any kind of adventure, while the Mios2 brings similar quality to a smaller package that's ideal for cities and small spaces.
We'll compare the differences in size, price, features, accessories and more in this Cybex Priam3 vs. Cybex Mios2 comparison.
Cybex Priam3
The Cybex Priam3 is equally suitable on a bumpy walking path or at a trendy restaurant.
When you're downtown, use the high-positioned, reversible seat as a high chair at your table. When you're off-roading, convert the stroller to two-wheel mode for tough terrain—or even replace the front wheels with ski attachments for smoother strolling through snow or sand.
The Priam3 is the newest iteration of the stroller that offers a choice of three frame colors: black, silver or rose gold. No updates have been made since the Priam3 was released in 2019, aside from new fashion collections Cybex debuts each year.
Cybex Mios2
The Cybex Mios2 is minimalistic yet sturdy, making it an ideal choice for families seeking a smaller stroller that doesn't skimp on maneuverability.
The Mios2 is lighter and more narrow than most everyday strollers while still offering features like all-wheel suspension and a high weight capacity. The reversible seat and footrest consist of breathable mesh for maximum airflow, while a removable seat inlay adds comfort.
Cybex debuted new colors and fabrics for the Mios2 in 2019; no changes have been made since.
Cybex Priam3 vs. Mios2 Price
With a difference in size comes a considerable difference in price, too: The starting price of the Priam3 is $350 more than the Mios2.
Pricing increases for both models if you buy a rose gold frame ($50 more) or a limited-edition version, which typically adds about $150 to $200 (although some fashions, like the Jeremy Scott Wings version of the Priam3, is $700 more.)
Adding a battery-operated motor and smart sensors to your Priam adds $400 to the price, with the Cybex e-Priam starting at $1,399.95.
Priam3: $999.95 to $1,049.95 for standard colors
Mios2: $649.95 to $699.95 for standard colors
e-Priam: $1,399.95 to $1,449.95
Cybex Priam3 vs. Mios2 Weight and Dimensions
If you're tight on space, the Mios2 is significantly more compact than the more rugged Priam3.
The Mios2 is 7 pounds lighter, largely because of its smaller wheels, and it's also about 4 inches more narrow. When folded, the Mios2 has a reduced length of nearly 8 inches over the Priam3.
Stroller Weight
Priam3: 28.1 pounds
Mios2: 21.6 pounds
Weight Limit
Priam3: 55 pounds
Mios2: 55 pounds
Dimensions
Priam3: 32.5-36.4"L x 23.6"W x 38-42.1"H
Mios2: 34.1-37.2"L x 19.3"W x 37.8-42.1"H
Folded Dimensions
Priam3: 37.4"L x 23.6"W x 15.7"H
Mios2: 29.5"L x 19.7"W x 13"H
Wheel Size
Priam3: 7.5" front wheels; 12" rear wheels
Mios2: 6.5" for all wheels
Cybex Priam3 vs. Mios2 Wheels and Maneuverability
The bigger wheels, the smoother the push: Although both strollers have all-wheel suspension to absorb shock along the ride, the larger wheels on the Priam3 are more suitable for varied terrain.
The Mios2 is designed more for streets and sidewalks, while the Priam3 has additional features to help it conquer gravel, cobblestone, sand and snow. See the video below for a look at the Priam hitting the beach, using the stroller's two-wheel mode and ski attachments (sold separately).
If tough terrain is a daily obstacle, consider the electric-powered Cybex e-Priam, which adds electric power to assist the push up a steep hill or over a rough road. Smart sensors in the handlebar detect resistance and activate a motor in the rear axle, assisting the push up a steep hill or over a rough road. See the e-Priam in action in the video below.
Cybex Priam3 vs. Mios2 Bassinet
The bassinets (also called carrycots) for the Cybex Priam3 and Mios2 are similar in style and function, allowing your baby to lie flat in the safest and most comfortable position.
Both include a soft cotton lining and an extendable UPF 50+ canopy for sun protection. The back of the bassinet, as well as the back of the canopy, can be fully ventilated to keep baby cool as she sleeps.
Both the Cybex Priam3 Lux Carrycot and the Cybex Mios2 Lux Carrycot are available in a single color, Black.
Carrycot Price
Priam3: $299.95
Mios2: $259.95
Cybex Priam3 vs. Mios2 How to Fold
Both strollers allow you to hold your child with one hand and fold your stroller with the other.
To fold the Priam3, first pull a lever at the top of the seatback to fold the seat into the frame. Lower the handlebar to its shortest position, then simply pull the front wheels toward you to close the stroller in a standing position. The stroller can be locked with an elastic strap. See this video for a look at how to fold the Priam3.
To fold the Mios2, pull the seatback lever to fold the seat into the frame. Press the handlebar button and push the handlebar until it begins to collapse into the stroller. The Mios2 locks automatically and stands when folded. See how to fold the Mios2 in this video.
Car Seats Compatible with Cybex Priam3 and Mios2
Both strollers come with a set of car seat adapters for any Cybex Aton or Cloud Q series car seat. The adapters are a set of posts that fold with the stroller.
The current Cybex infant car seats include:
The Cloud Q is the only car seat on the market that can fully recline when attached to a stroller, turning it into a bassinet of sorts.
All Cybex infant car seats include a steel load leg that attaches from the base to the floor of your car, stabilizing the seat in the event of a crash. The Aton M also includes an anti-rebound bar, an additional stabilization feature. Plus, all Cybex car seats also include SensorSafe technology in the chest clip, which alerts parents to unsafe situations like an unbuckled clip or a child left in a vehicle.
In most cases, Cybex products use the same adapters as Nuna, Maxi-Cosi and Clek car seats, too. However, Strolleria recommends using Cybex car seats for Cybex strollers, as we've found that other car seat brands are sometimes difficult to attach or remove.
Cybex Priam3 vs. Mios2 Colors and Fashion Collections
In a market dominated by gray and black strollers, fashion editions of the Cybex Priam3 and Mios2 make a bold statement—adorned with flowers, wings, bedazzled emblems and more.
Cybex typically releases new fashion collections each year, collaborating with fashion designers like Jeremy Scott, celebrities like Katy Perry and DJ Khaled, and models like Karolina Kurkova to create limited-edition versions of strollers, car seats and accessories like carriers and diaper bags.
Current fashion collections for the Cybex Priam3 include:
Fashion editions of the Cybex Mios2 include:
Cybex Priam3 vs. Mios2 Pros and Cons
So which is better: the Cybex Priam or Mios? Only you can decide which stroller is right for your family, but here are the benefits and drawbacks we see.
Cybex Priam3
Benefits
Rear wheels are nearly double the size of Mios wheels for smoother handling
Can go into two-wheel mode for navigating curbs and rough terrain
Has larger storage basket with magnetic closure
Seat is roomier with more padding for a larger child
Seat sits higher on stroller, allowing for use as a high chair at restaurants
Available in e-Priam version that provides a motorized assist over hills and rough surfaces
Compatible with Cybex Kid Board to allow an older toddler to ride along
Available in more fashion collection versions
Drawbacks
Costs at least $350 more than the Mios
Weighs 7 pounds more than Mios and takes up more space when folded
Requires applying elastic strap to lock when folded, unlike automatic lock for Mios
Does not have ventilated seat and footrest like Mios
Cybex Mios2
Benefits
One of the most compact full-sized strollers, weighing 7 pounds less and measuring 4 inches more narrow compared to Priam
Seatback and footrest are ventilated to provide air flow and comfort in warm weather
Costs at least $350 less than Priam
Folds easily and locks automatically when folded
Drawbacks
Wheels are smaller and thinner, making them less suitable for varied terrain compared to Priam
Removable seat insert does not offer as much padding or coverage compared to Priam seat
Not compatible with riding board for a second child
Smaller storage basket may not fit larger diaper bags
Questions?
Strolleria is a family-owned and operated retailer dedicated to making the baby gear buying experience less overwhelming for parents. If you have more questions about the Cybex Priam3 vs. Mios2 debate, feel free to contact us at 480-442-9433 or customercare@strolleria.com. 
---