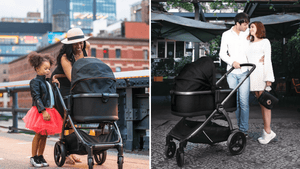 Agio Z4 vs. Peg Perego YPSI Stroller Comparison
Functionally, the Agio Z4 and Peg Perego YPSI strollers are identical!
Both models are made in Italy by the same parent company, Peg Perego, and offer the same features, like a lightweight, standing fold and the ability to convert to a double stroller.
While the Agio Z4 is exclusive to select stores and includes a longer warranty, both the Z4 and YPSI are made with premium materials and offer flexibility with configurations and car seat compatibility. Peg Perego also makes the YPSI in a wider range of colors, 
In this comparison, we'll help you determine which of these similar strollers will be best for your family.
Peg Perego's lightest weight, full-featured stroller, the ultra-narrow YPSI converts from a single to a double and offers many configurations with one, two, or even three children. Aesthetically, it offers black or rose gold leatherette instead of the Agio's brown or grey leatherette, as well as a more diverse color selection ranging from neutral to colorful options.
The YPSI stroller is manufactured in Italy by Peg Perego—a manufacturer of high-quality baby products since 1949—including a 2 year warranty and wide range of accessories.
Also made in Italy by Peg Perego, the Agio Z4 stroller is exclusive to select independent retailers. The Agio collection features brown leatherette details and an industry-leading 5-year warranty.
The Z4 can be paired with a matching Agio Primo Viaggio 4-35 Nido or Agio Primo Viaggio 4-35 Lounge infant car seat. Parents can also use adapters to attach a car seat from Nuna, Cybex, Maxi-Cosi or Clek for a more customized travel system.
Agio Z4 vs. Peg Perego YPSI Features
Functionally, the Z4 and YPSI strollers are the identical, and both have the ability to expand to a double stroller.
Both feature a lightweight, narrow frame (that's only 20" wide!) with durable, all-terrain tires, a removable and reversible toddler seat, the option to attach an infant car seat or bassinet. and the ability to expand from a single to a double stroller for two!
The toddler seat on both models can be removed and reversed to face parents or face forward, and it features a large, expandable canopy with UPF 50+ sun protection. For smaller kids, the integrated pop-out footrest can be raised to provide more support and lowered as they get older. The seat folds compactly with the rest of the stroller frame, which can stand on its own when folded.
Using the double adapters, you can turn any Z4 or YPSI stroller into a double. This set of upper and lower adapter pieces allow you to add a Companion Seat, sold separately, or an infant car seat or bassinet.
One set of car seat adapters for Peg Perego infant car seats (called "links") are included with your stroller purchase. The links fit Primo Viaggio 4-35 and Nido car seats manufactured in January 2018 or later; older car seats aren't compatible.
Both strollers can also be used for twins. You can purchase a second set of Primo Viaggio links for twins, or purchase adapters to attach an infant car seat from select other brands. See here for a list of infant car seats compatible with the Agio Z4 and Peg Perego YPSI strollers.
The YPSI and Z4 are also compatible with the same accessories, including a wheeled travel bag, bassinet stand, baby stage pad for the toddler seat, and a ride-along board for an older toddler. For taller parents, extend the handlebar an additional 5.75 inches with the handle extensions.
Agio Z4 vs. Peg Perego YPSI Colors
Choose from three sophisticated fashions for the Agio Z4, all of which feature premium fabrics and eco-leather details on the handlebar, bumper bar and piping.
The Agio Black and Agio Grey strollers include saddle brown eco-leather, while Mirage has black eco-leather, and the Black Pearl has silver eco-leather details.
Agio Grey
Agio Black
Agio Mirage
Black Pearl
The Peg Perego YPSI comes in six colors:
Mon Amour
Atmosphere Grey
Onyx Black
City Grey
Graphic Gold
New Life
Mon Amour is the most similar to the Agio collection with a chic rose gold frame and leatherette details, while Graphic Gold has gold trim on the canopy, frame, and wheels.
All colors of the YPSI come with eco leather handlebar and bumper bar for a sleek, modern look and comfortable grip.
Agio Z4 vs. Peg Perego YPSI Warranty
Apart from color options, the biggest difference between the Peg Perego YPSI and Agio Z4 is the warranty.
Peg Perego includes a 2-year manufacturer's warranty with the YPSI stroller, but the Agio collection includes a longer 5-year warranty.
Manufacturer's warranty covers any factory defect during that period starting from the date of purchase, so you will have three additional years of warranty coverage on the Z4 compared to the YPSI.
With a stroller that can grow with your family to accommodate baby #2, or even #3 (by adding the ride-along toddler board accessory), an additional three years could make a difference in the longevity of your stroller.
However, it is more common for a defect to arise right out of the box, such as stitching imperfections in the fabrics, rather than develop over time. Warranties do not cover travel damage, damage due to misuse, and other situations determined by the manufacturer.
Agio Z4 vs. Peg Perego YPSI Price
For the single stroller with frame and one stroller seat, the YPSI is $50 less than the Z4 model.
Here are the prices for each combination.
Single Stroller
Z4 single stroller: $749.99
YPSI single stroller: $699.99
Double Stroller
Z4 double stroller: $1059.97
YPSI double stroller: $1009.97
Travel System
Z4 travel system with Agio Nido: $999.98
Z4 travel system with Agio Lounge: $1049.98
YPSI travel system with Peg Perego Nido: $1049.98
YPSI travel system with Peg Perego Lounge: $1099.98
QUESTIONS?
Strolleria is dedicated to making the baby gear buying experience less overwhelming for parents. If you have more questions about the Agio Z4 versus Peg Perego YPSI strollers, feel free to contact us at 480-442-9433 or customercare@strolleria.com. 
Shop the Peg Perego YPSI strollers and accessories below! 
---