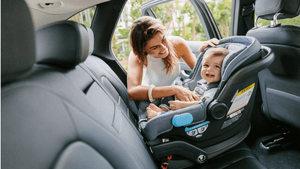 2019 UPPAbaby MESA vs. 2018 UPPAbaby MESA Car Seat Comparison
It's easy to compare the 2019 UPPAbaby MESA and the 2018 UPPAbaby MESA: The car seats are exactly the same!
No changes were made for the 2019 MESA, with the exception of one new color added in Spring 2019, Bryce White Marl.
Looking for the latest updates on the UPPAbaby MESA? See this 2021 vs. 2020 UPPAbaby MESA comparison.
2019 UPPAbaby MESA Colors vs. 2018 UPPAbaby MESA Colors
The 2019 UPPAbaby MESA is available in three colors returning from 2018, as well as one new color, Bryce:
Bryce White Marl 
Jake Black 
Henry Blue Marl 
Jordan Charcoal Melange
New for 2019, Bryce White Marl features an off-white canopy and light gray heathered interior. Bryce is designed to pair with a 2019 VISTA stroller by the same name, as well as the Loic White color for the CRUZ and Devin Grey Melange color of the MINU stroller.
2019 UPPAbaby MESA Price vs. 2018 UPPAbaby MESA Price
Prices for the UPPAbaby MESA are not changing for 2019, with the car seat available at two price points: $299.99 for the polyester fabrics, and $349.99 for merino wool fabrics.
Merino wool is a natural fiber that is hypoallergenic, free of flame retardant chemicals, and helps to keep your baby cooler in summer months and warmer in the winter.
Jordan Charcoal Melange: $349.99
Henry Blue Marl: $349.99
Jake Black: $299.99
Bryce White Marl: $299.99
Strollers Compatible with 2019 UPPAbaby MESA
Because UPPAbaby has never changed the functionality of the MESA, all model years of the car seat are compatible with all model years of the VISTA, CRUZ and MINU strollers.
No adapters are needed to attach the MESA to the CRUZ or to the VISTA from 2015-later. If you have an UPPAbaby VISTA from 2014-earlier, you'll need an adapter that you can obtain from UPPAbaby's website at no cost. 
Questions?
Strolleria is a family-owned and operated retailer dedicated to making the baby gear buying experience less overwhelming for parents. 
If you have more questions about the 2019 vs. 2018 UPPAbaby MESA, feel free to contact us at 480-442-9433 or customercare@strolleria.com.
Shop the UPPAbaby MESA below!
---