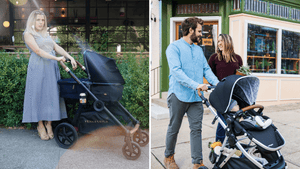 Venice Child Maverick vs. Mockingbird Stroller Comparison
Much like shopping for a car, picking the right stroller for your family is one of the most important - and expensive - baby gear decisions you'll make!
To find a stroller that can grow with your family, is made with durable materials, has touch points that are intuitive and easy to use, and works as a travel system with premium car seats built with cutting edge safety features, you can expect to spend between $600 and $1400 for a single stroller from a premium, well known name brand.
But what if you want to spend less than $600 on your convertible stroller without sacrificing these features?
Two lower-cost alternatives that are new to the market include the direct-to-consumer Mockingbird stroller, launched in 2019, and the Venice Child Maverick stroller launched in 2020.
Both available starting at just under $500, the Mockingbird and Maverick share similar characteristics to their costlier competition, including contemporary designs like leatherette accents and numerous configurations ideal for growing families or parents with twins.
Let's see how the Mockingbird and Maverick compare.
Mockingbird
Following the lead of companies like Warby Parker and Harry's (where Mockingbird's founder got his start), Mockingbird is one of the first companies to bring the direct-to-consumer approach to strollers.
The company offers a single-to-double version, which is what we'll review in this comparison, but previously offered a similar-looking Mockingbird model that could not convert to a double.
Mockingbird's single-to-double stroller grows with your child from birth with the use of an infant car seat or bassinet, through toddlerhood with the included toddler seat. Plus, the Mockingbird single-to-double stroller transitions into a sibling solution when you purchase a second seat kit.
Venice Child Maverick
First released by Venice Child in 2020, the Maverick is a modern convertible stroller for parents wanting their day to day life to be less strenuous thanks to straightforward, long-lasting, and high-quality gear.

The Venice Child Maverick is highly versatile, with the option to create over thirty possible configurations to grow with your family with the addition of a car seat, newborn bassinet, or second stroller seat.

Large, shock absorbing wheels make the Maverick easy to push, while the telescoping, comfort grip handlebar is easily adjustable. Your essentials are easy to access with an open, extra large storage basket that features built in pockets, plus the included cup holder keeps your water or coffee close at hand.

The toddler seat features comfortable padding, an adjustable calf support, and three-position recline. An extendable, UPF 50 sun canopy keeps your child protected from the bright sun and an included rain cover is handy for surprise showers while you stroll.
Maverick vs. Mockingbird Single Stroller Price
There are two ways you can compare the price of the Venice Child Maverick with the Mockingbird: by the actual price for the single, double, or single with bassinet, or by the cost an apples to apples comparison by adding the value of accessories included with the Maverick that are sold separately for the Mockingbird.
At first glance, there is a $50 price difference between the $499.99 Maverick single stroller and the $450 Mockingbird single stroller.
However, Venice Child includes four pieces with purchase of the stroller that when purchased separately for the Mockingbird add $90 to its cost: car seat adapters, a cup holder, and a rain cover. Plus, the Maverick includes the single to double adapters with purchase that allow you to use it as a double right away with the main seat and a compatible infant car seat.
The new overnight sleeping-approved Mockingbird bassinet, which launched in late 2022 and can only be used for overnight sleep with additional purchase of the Mockingbird Bassinet Stand, costs $140 plus $90 for the home stand.
Here's a look at the overall costs for the Maverick and Mockingbird.
Maverick Single Stroller Price
Single-to-double stroller: $499.99

includes car seat adapters, cup holder, and rain cover
Mockingbird Single Stroller Price
Single-to-double stroller: $450

includes detachable full sun cover
Maverick vs. Mockingbird 

Double Stroller Price

With purchase of a second seat or a bassinet, both the Maverick and Mockingbird can transform to seat two children.

Similar to how the single strollers are priced, purchasing the Maverick double bundle or Mockingbird single stroller plus second seat shows a $65 price difference in the Mockingbird's favor, until you factor in the additional accessories sold separately for the Mockingbird which total an additional $115: car seat adapters, cup holder, and two rain covers.

When purchased separately, the second seat of the Maverick is $75 more than the Mockingbird second seat, and it includes a rain cover with purchase that is $25 separately for the Mockingbird.
Maverick Double Stroller Price
Stroller with second seat kit: $659.99

includes car seat adapter, cup holder, 2 rain covers, upper and lower adapters
Mockingbird Double Stroller Price
Stroller with second seat kit: $595

includes upper and lower adapters

Maverick vs. Mockingbird Weight and Specifications
There are only slight differences in actual stroller weight of the Maverick versus the Mockingbird, though the storage basket capacity is notable higher for the Mockingbird.
Single Stroller Weight
Maverick: 28.5 pounds

Mockingbird: 26.5 pounds
Double Stroller Weight
Maverick: 35.5 pounds

Mockingbird: 35 pounds
Stroller Dimensions
Maverick: 39"L x 23.6"W x 39-43"H

Mockingbird: 33"L x 26"W x 40"H
Folded Dimensions
Maverick: 39"L x 23.6"W x 20.5"H

Mockingbird: 16"L x 25.5"W x 33.5"H
Basket Capacity
Maverick: 11-17 pounds

Mockingbird: 25 pounds
Maverick vs. Mockingbird Weight and Height Limit
With a car seat or bassinet, you can use your Maverick or Mockingbird stroller from day one, then the included toddler seats will support your child throughout their toddler years.
Though extremely similar, the stroller seats of the Maverick offer slightly more space for a tall toddler, with a higher weight capacity per seat that could make a difference in how long your oldest children can use the stroller.
Weight Capacity
Maverick: 48 pounds per seat

Mockingbird: 45 pounds per seat
Seat Back Height
Maverick: 21.2"

Mockingbird: 20"
Maverick vs. Mockingbird 

Wheels and Suspension

All wheel suspension on the Maverick and Mockingbird help you cross bumpy sidewalks and grassy fields in relative comfort.

Though they do not have the integrated frame suspension and hearty, all-terrain tread seen on double strollers like the Bugaboo Donkey5, UPPAbaby VISTA V2, or Nuna Demi Grow, the large rear tires and suspension over all four tires ensures a smooth ride on your everyday outings.

Both the front and rear wheels of the Maverick are larger than the Mockingbird, including a 2" difference on the back wheels: 11" for the Maverick's rear wheels, versus 9" for the Mockingbird's.
Suspension
Maverick: Suspension on all four wheels

Mockingbird: Suspension in front wheels and in rear frame
Wheel Size
Maverick: 7.5" front wheels; 11" rear wheels

Mockingbird: 7" front wheels; 9.5" rear wheels
Maverick vs. Mockingbird 

Configurations

Equally versatile - offering over a dozen configurations each as a single, double, or twin stroller - the Mockingbird and Maverick can achieve many different configurations with toddler seats, car seats, and a bassinet.

Thanks to a longer frame, the Maverick offers over 30 configurations as a single or double stroller, compared to the Mockingbird's 19+ configurations.
Bassinet + Seat
Although both the Maverick and Mockingbird can accommodate a bassinet and stroller seat at once, the Mockingbird's configurations are limited to one - with the bassinet above and second seat below, both parent-facing.
The Maverick offers multiple configurations with the bassinet and toddler seat - with the bassinet above, the second seat can face forward or parent, and with the bassinet below the upper seat can face parent or face forward (with the calf support raised).
Two Bassinets
Only the Maverick can be paired with two bassinets for twins. For twin families with the Mockingbird, two car seats can be attached with purchase of adapters, or infant inserts can be purchased for the seats.
Maverick Configurations
Mockingbird Configurations
How to Fold Maverick vs. Mockingbird
While both strollers fold compactly, the Mockingbird has the added benefit of a one-handed fold and the option to stand it upright once folded.
The Maverick stroller is quick to fold with two hands, and rests horizontally for storage or easy transport in your vehicle.
A mechanism in the middle of the Mockingbird handlebar allows for a one-handed fold. Recline the seat first, to allow for the most compact fold, then press two buttons using your thumb and fingers and lower the frame.
To fold the Maverick, while standing at the front of the stroller, use both hands to push the folding levers back at the rounded frame hinge. The front wheels will roll back as the handlebar lowers, and the stroller will fold compactly against the ground with the toddler seat and handle bar off the ground.
Car Seats Compatible with Maverick vs. Mockingbird
Neither Mockingbird nor Venice Child make their own infant car seat, but you can still create a travel system with your Maverick or Mockingbird!
Just add adapters and purchase one of the many compatible infant car seat models from a range of brands.
Venice Child includes a set of car seat adapters with purchase of any Maverick stroller that exclusively fit the popular Clek, Cybex, Maxi Cosi, and Nuna infant car seats.
While you'll need to purchase adapters separately to put any car seat on the Mockingbird, a wider range of car seat brands are compatible, which might make this an attractive option to parents that already own a car seat from Evenflo, Graco, Britax, or others that aren't compatible at all with the Maverick. However, if you're ready for a new car seat, are shopping for the first time, or your existing car seat is about to expire, car seats compatible with either the Maverick or Mockingbird offer a top-rated selection.
Car Seats Compatible with Maverick
Adapters are required for all car seats, included with purchase of the stroller
Clek Liing
Cybex Cloud Q and Aton M

Maxi-Cosi Mico 30, Mico Max 30 and Mico Max Plus

Nuna PIPA series
Car Seats Compatible with Mockingbird
Purchase of adapters are required for all car seats:
Baby Jogger City Go series

Britax B-Safe 35 and B-Safe Ultra

Chicco infant car seats 

Cybex Cloud Q and Aton M

Evenflo Embrace and Nurture

Graco SnugRide infant car seats

Maxi-Cosi Mico 30, Mico Max 30 and Mico Max Plus

Nuna PIPA series

UPPAbaby MESA

Maverick vs. Mockingbird Accessories
One noticeable difference in approach between the Mockingbird and Venice Child brands is their approach to accessories.
Venice Child includes several valuable accessories with purchase of the Maverick stroller, but beyond that you can't really add on more accessories unless you look at third-parter offerings like a ride along board or parent organizer.
In stark contrast, Mockingbird makes a wide range of accessories, available at relatively low cost, but unlike the Maverick all accessories are sold separately.
The Maverick includes car seat adapters compatible with Maxi Cosi, Nuna, Cybex, or Clek, single to double adapters, a rain cover, and cup holder with purchase of the stroller. Because accessories are already included with purchase, the only items sold separately are:
Maverick Second Seat

Maverick Bassinet
The Mockingbird comes with a sun shade that can attach to the canopy. Mockingbird also offers these accessories sold separately:
Car seat adapters (numerous brands)

Bassinet

Bassinet stand

Riding board

Infant seat insert

Cup holder

Snack tray

Parent organizer

Seat liner

Footmuff

Hand muff

Rain cover 

Bug cover
Maverick vs. Mockingbird Colors and Fabrics
With similar aesthetic details and features, the Maverick and Mockingbird materials are quite similar, but Mockingbird offers parents the option to customize their look while the Maverick provides fabrics that are more supportive yet soft to the touch.
Materials
Both the Maverick and the Mockingbird include faux-leather details on the handlebar and the bumper bar; while Venice Child only includes a contemporary saddle brown leatherette with the Maverick, Mockingbird gives parents the option of black or brown.
With safety in mind, reflective details in the lining and trim of the Mockingbird and on the canopy of the Maverick ensure visibility during low light and in high-traffic urban settings.
While both strollers include canopies which are spill-resistant, offer UPF 50+ sun protection, and are weather-ready, the fabrics used on the Mockingbird are both less soft and less structured.
Backing materials in the Maverick seat provide more support than the Mockingbird's less structured seat, which can be pushed in from behind.
Canopy
On either model, you'll find two ventilation windows: a zip out panel in back to extend overall coverage, and a peek-a-boo window near the top to keep an eye on your child.
The Maverick includes an additional flip-out eye shade that's built into the canopy. On the Mockingbird, a separate additional sunshade attaches with magnets to the seat for full coverage and spans the length of the seat.
Colors
The Mockingbird is very customizable, allowing you to combine three stroller components: the fabric color, leatherette color and the interior canopy pattern. These choices are available for the Mockingbird:
Frame: Silver with penny leatherette or black leatherette

Fabric: Black, Sea Blue, Sky Blue, Bloom Pink, or Sage Green

Canopy pattern: Watercolor Drops or Windowpane
The Venice Child Maverick comes in these two color combinations:
Eclipse Black and Rose Gold

Twilight Grey and Rose Gold

 
Maverick vs. Mockingbird Pros and Cons
So which is better for you: the Maverick or Mockingbird? While only you can determine which stroller will best fits your family's needs, these are some of the benefits and drawbacks we've found.
Benefits
Telescoping handlebar creates better range of height adjustments for tall parents

30+ configurations

Included car seat adapters with purchase of the stroller

Upgraded fabrics that are premium yet durable

Large removable basket includes 3 built-in

pocket

s

Larger wheels get over bumps more easily

Higher weight capacity of 48 pounds per seat, yet stroller itself weighs 1 pound less
Drawbacks
2 year limited

warra

nty

versus lifetime warranty of Mockingbird

Takes 2 hands to fold versus the Mockingbird's 1-handed fold
Benefits
Comes with a lifetime warranty
$50 less because it can be purchased without accessories

Canopy material is water-resistant

Footrest zips open to help clean debris and crumbs

1-handed fold compared to the Maverick's 2-handed fold
Compatible with a wider range of popular car seat brands with purchase of adapters
Drawbacks
Smaller wheels offer less maneuverability

Toddler seats have a lower weight capacity

Handlebar flips up or down to change height positions, unlike telescoping Maverick handlebar offering more height adjustments for tall parents

Not sold by retailers that can support customers before and after purchase

Fabrics offer less seat structure and support
Conclusion
Although comparably priced, the Maverick has additional inclusions and touch points that add comfort and ease of use, which make the Venice Child Maverick most comparable to higher priced luxury models in the convertible stroller category.
With the Mockingbird, you could end up saving a little more by simply not purchasing accessories already included with the Maverick. Plus, Mockingbird makes adapters that fit a wide range of popular car seat brands, helpful for many parents who already have a car seat and need to purchase a double.
But does the Mockingbird's slightly lower price point and compatibility with more car seat brands outweigh the Maverick's upgraded materials and heartier design?
That's a decision you'll get to make when weighing your family's needs and priorities. Thankfully both the Maverick and Mockingbird single to double strollers are available at an accessible price point that offers families a luxury stroller system with both beauty and versatility.
Questions?
Strolleria is dedicated to making the baby gear buying experience less overwhelming for parents.
Strolleria is an authorized retailer of Venice Child products and an affiliate partner of Mockingbird. Strolleria may earn compensation from affiliate links in this content; please consider purchasing through these links if you found this comparison helpful.
If you have questions about the Venice Child Maverick or Mockingbird, feel free to contact us by starting a live chat, calling us at 480-442-9433 or e-mailing customercare@strolleria.com. 
Shop all single-to-double strollers below!
---