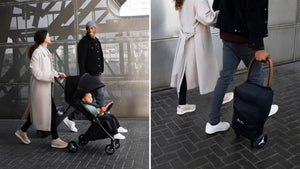 Silver Cross Jet3 vs. Silver Cross Jet4 | Stroller Comparison
Silver Cross is the oldest stroller manufacturer in the world! Year after year, Silver Cross has continued to evolve to meet the needs of families, and has established themselves as a trusted partner for parents worldwide. With the growing popularity of travel strollers and a demand for easy to use, light weight options, Silver Cross developed the Jet. Since its initial release, Silver Cross has continued to improve the Jet with each new iteration. The Jet4 is the best yet! In this article we will compare the Jet3 and Jet4 and highlight the differences and upgrades. 
The launch of the original Jet design brought a distinctive feature to travel strollers that is not typically found in this stroller category. The Jet offers a fully flat recline, suitable for use from birth. This has remained consistent over the years making both the Jet3 and Jet4 an ideal choice for parents from day one. Both strollers are newborn friendly straight out of the box with no need for any additional accessories!
With the mention of "travel stroller," first thought is typically airports and plane travel. The Jet definitely covers travel needs! Both the Jet3 and Jet4 offer a compact fold and are "cabin approved," designed to fit in overhead bins.
Travel needs aside, these lightweight options are also a popular choice for everyday use. Both the Jet3 and Jet4 offer car seat compatibility. Silver Cross offers dedicated infant car seat adapters allowing the Jet3 and Jet4 to pair with a variety of brands of infant car seats. The Jet3 and Jet4 offer easy transitions in and out of the car and take up minimal trunk space. Leave your full size stroller at home, and opt to pair your infant car seat with a Jet4!
What infant car seats can be paired with the Silver Cross Jet3 and Jet4?
Check out a full list of infant car seat compatibility>>> here
Shared Features:
Fully flat recline

Infant car seat compatible

Quick one-handed fold

Airplane cabin approved

Magnetic 5 point harness

Toddler bar doubles as trolley handle

Multi-position reclinable seat

UPF 50+ Canopy, with pop-out visor and peek-a-boo window

Adjustable footrest

Lockable swivel front wheels

Flip-flop friendly brake

Spring suspension

11lb weight capacity storage basket

3 year warranty
The upgrades to the Jet4 are all about material choices. Silver Cross is dedicated to sourcing eco-friendly materials! The Jet4 features sustainable jersey fabric made with yarn from recycled plastic bottles. This new fabric upgrade is crease resistant, and guaranteed to look perfect straight out of the box and throughout its lifecycle.
Stroller use:
Both the Jet3 and Jet4 can be used from birth to 55lbs
Weight:
Jet3: 13.6 lbs
Jet4: 13 lbs
Dimensions:
Jet3: Open Dimensions: L 35.43" x W 17.7" x H 39.5"
Jet4: Open Dimensions: L 35" x W 18" x H 38"
Jet3: Folded Dimensions: L 7.08" x W 11.81" x H 21.65"
Jet4: Folded Dimensions: L 8" x W 12" x H 22"
The seat dimensions of the Jet3 and Jet4 are the same:
Seatback height: 18"
Seat to canopy: 23.5"
Seat width: 10"
Seat depth: 9"
What accessories are offered for the Silver Cross Jet3 and Jet4?
Both the Jet3 and the Jet4 come packaged with a travel cover, toddler bumper bar and rain cover.  
If you are in need of a light weight travel stroller that is ready to use from the day your baby arrives, the Silver Cross Jet4 is a great choice. Its car seat compatibility makes it perfect for every day use when on-the-go and its compact size and light weight make for easy travels! The Jet4's luxury details are beautifully crafted to create a stroller that is looking its best no matter where you take it!
Questions?
Strolleria is dedicated to making the baby gear buying experience less overwhelming for parents.
If you have more questions about the Silver Cross Jet3 vs. Silver Cross Jet4 debate, feel free to engage us on our webchat or email us at customercare@strolleria.com.
---