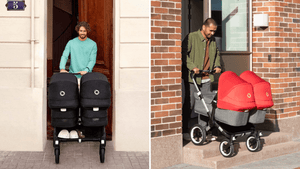 Bugaboo Donkey5 vs. Bugaboo Donkey3 Stroller Comparison
The Bugaboo Donkey is simultaneously the single stroller and the double stroller you might be looking for as your family grows. 
As a single, the Donkey maneuvers like the best of strollers while offering more storage than most, thanks to an extra basket in the sidecar position. Expanded to a double, its seats sit side-by-side instead of one in front of the other—allowing for an easier push, more even weight distribution, and better access to both kids.
In 2022, Bugaboo launched the Donkey5, featuring upgrades like an easier fold and unfold, a higher seat position, and fabric updates including a ventilated bassinet, improved fabrics and new colors.
We'll compare the Bugaboo Donkey5 to the previous model, the Donkey3, in this post.
Bugaboo Donkey5 vs. Bugaboo Donkey4 Stroller Comparison
Wanting to compare the Bugaboo Donkey5 with the Bugaboo Donkey4? That's an easy choice—the Donkey4 doesn't exist!
Bugaboo skips the number four when naming product models, as it's considered an unlucky number in China, home to Bugaboo's factory.
Bugaboo Donkey5 vs. Bugaboo Donkey3 Price
The Bugaboo Donkey5 costs $100 more than the previous version, with a starting price of $1,399 for the single (mono) stroller and $1,759 for a double (duo).
For both the Donkey3 and Donkey5 models, the aluminum silver frame costs $100 less than other frame colors. The Donkey5 has a single fashion available with a silver frame (Black/Aluminum), while all remaining colors include the higher-priced black or graphite dark gray frame.
Bugaboo Donkey Single (Mono) Price
Donkey5: $1,399 to $1,499
Donkey3: $1,299 to $1,399
Bugaboo Donkey Double (Duo) Price
Donkey5: $1,759 to $1,859
Donkey3: $1,659 to $1,759
Bugaboo Donkey Twin Price
Donkey5: $1,889 to $1,989
Donkey3: $1,789 to $1,889
Bugaboo Donkey5 vs. Bugaboo Donkey3 Weight and Dimensions
There are no weight or size differences between the Bugaboo Donkey5 and Donkey3.
However, the seat connection point on the Donkey5 frame has been redesigned to make it easier to reach your child. Whether you're using the seat or bassinet, your child will sit an inch closer to you in the Donkey5.
Bugaboo Donkey Single Weight
Donkey5 and Donkey3: 26.89 pounds
Bugaboo Donkey Double Weight
Donkey5 and Donkey3: 33 pounds
Bugaboo Donkey Dimensions
For either the Bugaboo Donkey5 or Donkey3, the stroller becomes 5.5" wider when you expand it from single to double (yet it's still narrow enough to fit through most standard doorways).
Single dimensions: 32"L x 23.6"W x 33-42"H
Double dimensions: 32"L x 29"W x 33-42"H
Bugaboo Donkey Folded Dimensions
One-piece fold: 20" x 23.6" x 35.4"
Two-piece fold: 35" x 23.6" x 13.7"
Bugaboo Donkey Seat Height
Donkey5: 22.44" from ground
Donkey3: 21.25" from ground
Bugaboo Donkey Weight Capacity
Donkey5 and Donkey3: 50 pounds per seat
How to Fold Bugaboo Donkey5 vs. Bugaboo Donkey3 
The Bugaboo Donkey5 is easier to both fold and unfold, thanks to redesigned folding and locking mechanisms.
On the Donkey3, the folding triggers are located on the underside of the frame, which can make the buttons a little tricky to find. For the Donkey5, the triggers have been relocated to the front of the frame, where it's more visible and easier to use.
When unfolding the Donkey3, you'll need to find and engage the same buttons to unlock the stroller. The Donkey5 can be unfolded without pressing any buttons, saving parents a step when they're loading the stroller into the car.
Folding either version of the Donkey involves the same motion: Lower the handlebar to its shortest position, then pull up on the folding triggers and lower the handlebar. Grab the center axle and push the wheels together to complete the fold.
The Donkey can fold with seats attached, but for the most compact fold, you can remove the seats first—they're self-standing, so they won't get dirty resting on the ground.
The video below shows how the Donkey3 folds in one piece, with seat attached.
See this video for a look at the Donkey's most compact fold for storage, with the seat and wheels removed.
Bugaboo Donkey5 vs. Bugaboo Donkey3 Bassinet
New for the Donkey5 is a "breezy" bassinet that offers the option for ventilation in warm weather.
The back of the Donkey5 bassinet opens to reveal a large mesh panel, which provides more air flow—and a glimpse of the world (or in the case of twins, at each other.)
Simply lift a flap at the back of the bassinet to open the panel, or keep it closed when the weather is cool. When sealed, the bassinet offers plenty of protection from the elements—to be sure, Bugaboo even tested it in a wind turbine at 31 miles per hour.
The Bugaboo Donkey5 bassinet has also been redesigned to make it easier to fold and store, thanks to bassinet stiffeners now located on the interior instead of the exterior.
Both the Donkey5 and Donkey3 models also have a "Breezy" canopy, with a ventilation panel that can be opened for airflow and a peek at your child.
Bugaboo Donkey5 vs. Bugaboo Donkey3 Colors and Fabrics
The Bugaboo Donkey5 introduces a few fabric upgrades, as well as new canopy colors and an additional frame color, Graphite.
The Donkey5 has softer shoulder harness pads, along with fabrics that are water-repellent and more padded. Embroidered logos and updated labels add a touch of sophistication.
You can customize the color of your Donkey5 by choosing the color of these components:
Canopy
Stroller base (including chassis and hardware, seat fabric, bassinet fabric, side luggage basket and underseat basket)
Bugaboo also offers "complete" stroller options that are prepackaged for the sake of simplicity (and fewer boxes). Some colors, such as Black with Aluminum frame and Stormy Blue, are only available as "complete" options.
The Donkey3 offers greater customization (and complexity) because each component is packaged separately—which means the twin stroller comes in as many as seven boxes. The Donkey5 customization options have been condensed for simplicity.
See below for Donkey5 color options.
Bugaboo Donkey5 Base Colors
The Donkey5 has two choices of frame colors: Graphite Gray and Black. The Aluminum frame color seen on the Donkey3 has been discontinued for the Donkey5, unless purchased as a complete stroller with black fabrics.
Graphite Gray frame with Midnight Black fabrics
Graphite Gray frame with Grey Melange fabrics
Black frame with Midnight Black fabrics
Black frame with Grey Melange fabrics
Bugaboo Donkey5 Canopy Colors
The Donkey5 has a refreshed color palette, consisting of neutrals like Stormy Blue and Misty White, with pops of color like Sunrise Red or Morning Pink.
Several Donkey3 canopy colors have been discontinued, including Red, Soft Pink and Vapor Blue.
Midnight Black
Grey Melange
Stormy Blue (new for Donkey5)
Forest Green (new for Donkey5)
Morning Pink (new for Donkey5)
Sunrise Red (new for Donkey5)
Misty White (new for Donkey5)
Bugaboo Donkey5 Complete Colors
Bugaboo's "complete" strollers offer predesigned color pairings, resulting in less packaging (and confusion over building a custom stroller).
Some components are only available as part of a complete stroller, such as the Stormy Blue seat/bassinet fabrics or the Aluminum frame.
Midnight Black canopy and fabrics with Aluminum frame
Midnight Black canopy and fabrics with Black frame
Stormy Blue canopy and fabrics with Graphite Gray frame
Misty White canopy with Midnight Black fabrics and Black frame
Washed Black canopy and fabrics with Black frame (special edition)
Bugaboo Donkey5 vs. Bugaboo Donkey3 Accessories
Both the Donkey5 and Donkey3 models are compatible with the same range of accessories, but the Donkey5 makes the stroller easier to use with two popular accessories.
Attachment points for the Bugaboo cup holder and the wheeled ride-along board are integrated into the frame of the Donkey5, so no extra pieces are required.
For the Donkey3, you'll need to purchase an adapter to attach the wheeled board. Attachment pieces for the cup holder are included with the cup holder purchase.
Both Donkey models are compatible with these accessories:
Comfort wheeled ride-along board
Parasol
Breezy sun canopy
Seat liner and Breezy seat liner
Footmuff and performance winter footmuff
High performance rain cover
Cup holder
Mosquito net
Comfort transport bag
Smartphone holder
Snack tray
Changing bag
Organizer
Newborn inlay
Bugaboo Donkey5 vs. Bugaboo Donkey3 Compatibility
Wondering if you can get a Bugaboo Donkey5 canopy for your Donkey3 stroller—or maybe a Donkey3 duo extension set for your new Donkey5?
All pieces can be interchanged between the Donkey5 and Donkey3 models, with the exception of the bassinet. The Donkey3 bassinet won't fit on the Donkey5 stroller.
Questions?
Strolleria is an authorized retailer of Bugaboo dedicated to making the baby gear buying experience less overwhelming for parents.
If you have more questions about the Bugaboo Donkey5 vs. Bugaboo Donkey3 debate, feel free to contact us at 480-442-9433 or customercare@strolleria.com.
---