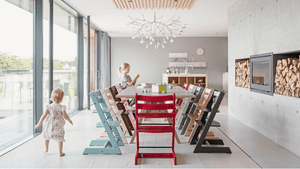 2019 Stokke Tripp Trapp vs. 2018 Stokke Tripp Trapp Comparison
With its timeless design and high-quality European beech wood, the Stokke Tripp Trapp is the chair that becomes part of your home for far longer than a typical plastic high chair (which is why Stokke even makes adult cushions for it).
The design and functionality of the Tripp Trapp has been iconic since 1972. But starting in December 2018, Stokke is making a few changes to the packaging and pricing of the Tripp Trapp line.
Until now, the Tripp Trapp was sold with a harness attached to the chair. To use the chair with a baby starting at 6 months, parents had to also purchase the Baby Set, a plastic seat that provides more support and a means for attaching a food tray.
For 2019, Stokke is now offering the Tripp Trapp High Chair, a single package that includes the chair (without the harness) and Baby Set (with harness attached). Past the Baby Set phase? Now, you can also buy just the Tripp Trapp Chair, with no harness attached.
Plus, for 2019, Stokke has reduced the price of both the Tripp Trapp High Chair and the Tripp Trapp Complete Bundle, which also includes a cushion and tray.
In this comparison, we'll explain all the differences between the 2019 Stokke Tripp Trapp and the 2018 Stokke Tripp Trapp.
The Tripp Trapp has not changed since 2019 and is not undergoing any updates for 2021.
2019 Stokke Tripp Trapp Price vs. 2018 Stokke Tripp Trapp Price
In previous years, purchasing the Tripp Trapp chair and Baby Set separately cost a total of $318. Now that the two items are packaged together for 2019, the cost is reduced to $259.
For both the 2018 and 2019 line, Stokke also offers a Tripp Trapp Complete Bundle that includes the Baby Set, cushion and tray. The 2019 version offers a $10 price savings over the previous version and will eventually include new colors.
Here are the prices for the 2019 Tripp Trapp collection:
The 2018-earlier Tripp Trapp products were sold at these prices:
2019 Stokke Tripp Trapp Accessories vs. 2018 Stokke Tripp Trapp Colors
The Stokke Tripp Trapp has long been available in practically every color of the rainbow, allowing you to perfectly pair the high chair with your dining decor.
For 2019, Stokke is adding a few new colors to the mix, offering the Tripp Trapp Chair and Tripp Trapp High Chair in these colors:
Natural
Red
Black
Walnut Brown
White
Aqua Blue
Storm Grey
Hazy Grey
Soft Pink
Moss Green
White Oak
Black Oak
Greywash Oak
Midnight Blue
Plum Purple 
Serene Pink (new in February 2019)
Whitewash (new in March 2019)
The 2019 Stokke Tripp Trapp Complete Bundle is available in these colors, with more to be added in 2019:
Walnut with Beige Stripe cushion
Natural with Beige Stripe cushion
Aqua Blue with Aqua Star cushion
White with Green Forest cushion
2019 Stokke Tripp Trapp Accessories vs. 2018 Stokke Tripp Trapp Accessories
For 2019, Stokke is expanding its line of accessories that give the Tripp Trapp a wider range of uses from birth through adulthood.
The Newborn Set, a fully reclined seat that attaches to the Tripp Trapp, allows babies to use the chair from birth to 6 months, long before their first meal. See the photo below for an overview of how the Tripp Trapp grows with your child throughout life.
Stokke has also released new accessories that add fun and convenience to mealtime. The Munch Collection includes everything your child needs to enjoy her first meal, including a waterproof bib, easy-grip utensils, plate and a cup and bowl with anti-drip lids. The EzPz Mat, which includes a placemat and set of two bowls, adds an easy-to-clean silicone surface to your Tripp Trapp tray. 
The new accessories can be used with any model year of the Tripp Trapp chair.
Questions?
Strolleria is a family-owned and operated retailer dedicated to making the baby gear buying experience less overwhelming for parents. If you have more questions about the Stokke Tripp Trapp, feel free to contact us at 480-442-9433 or customercare@strolleria.com.
Shop the Stokke Tripp Trapp and accessories below!
---